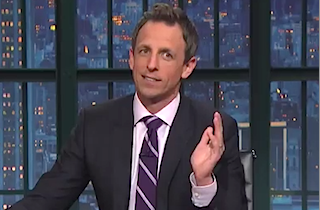 Yesterday, we pointed out that Conan O'Brien was the only nightly late night host to make a joke about the Bill Cosby rape allegations since that story blew up in a big way last week. Last night, Seth Meyers set out to change that with a deliberately meta sketch in which an "audience member" goaded him into making an ultimately terrible joke about the Cosby situation.
The host was launching into a cute story about his dog when a man stood up and said, "I think everyone in this audience is waiting for you to tell a Bill Cosby joke." Meyers demurred, calling it a "really delicate issue" that he didn't see a lot of humor in, but the man persisted, egging him on with taunts about not being edgy enough to pull it off.
After much dramatic persuasion, culminating with a full audience chant of "Bill Cosby joke! Bill Cosby joke!" Meyers relented and told what can only be described as the lamest Cosby joke possible, slyly proving his point that the whole thing is not worth joking about.
Watch video below, via NBC:
But Meyers was not the only late night host who addressed the controversy last night. The only other mention of Cosby's name on late night came during a Daily Show segment about the Keystone XL pipeline and eminent domain. In doing so, Jon Stewart managed to disprove the point Meyers was trying to make.
"TransCanada can't just lay pipe anywhere it wants to without permission," he said. "It's not Bill Cosby."
Watch video below, via Comedy Central:
[Photo via screengrab]
— —
>> Follow Matt Wilstein (@TheMattWilstein) on Twitter
Have a tip we should know? tips@mediaite.com