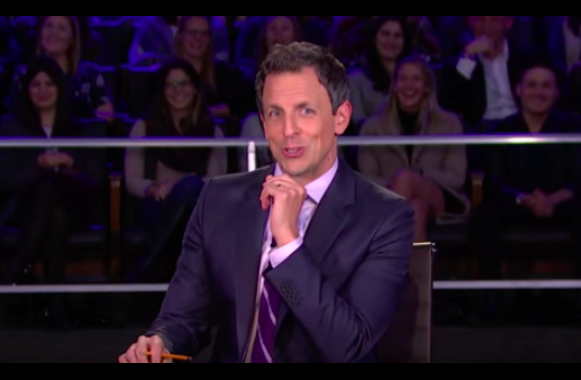 The fourth Republican presidential debate aired just two days after the one-year-to-go mark for the 2016 elections. In other words, with 363 days to go before election day, the Fox Business Network/Wall Street Journal-sponsored debate occurred almost a year before election day. That didn't stop comedian Seth Meyers from "hosting" his own Late Night GOP debate on Tuesday.
Meyers' team recut footage of the candidates from the CNBC GOP debate and paired it with various questions, jokes and asides for comedic effect. It's an old editing trick, to be sure, but it makes for a political debate that's (a) enjoyable to watch, and (b) less than seven minutes long.
For example, Meyers asked former Florida Gov. Jeb Bush why he thought he "would make a great President of the United States."
"What I said was, I don't believe that I would be President of the United States," he said, adding: "Don't vote for me."
The actual context of Bush's comments were a question from moderator John Harwood, who was asking Bush about previous comments made about slashing his payroll. Given Harwood's performance at the disastrous CNBC debate, however, Meyers' handling of the (fake) line of questioning was much better.
Yet the real meat of the segment came from Donald Trump, whom Meyers addressed four separate times for brief responses and larger answers. Like when he asked Trump about Ohio Gov. John Kasich's comments about making love to his wife ("He got lucky with a thing called 'fracking'"), or when Meyers quizzed the New York real estate mogul about culinary baking ("Have you ever baked a devil's food cake using Duncan Hines cake mix?").
Perhaps the best joke came towards the end of the faux debate, when moderator Meyers tried to score some drugs from Trump.
"Recreational marijuana is now legal in four states. Do you know where I might be able to score some weed, and followup, do you have any?"
"I do carry on occasion," said Trump. "Sometimes a lot, but I like to be unpredictable."
Check out the clip above, via NBC.
[Image via screengrab]
— —
>> Follow Andrew Husband (@AndrewHusband) on Twitter
Have a tip we should know? tips@mediaite.com