Seth Meyers Offers Trump a Way to Be President With No Negative Consequences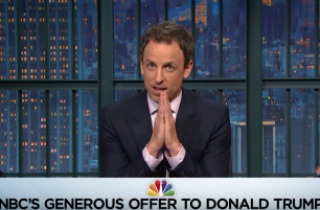 Seth Meyers clearly doesn't want Donald Trump to be president, but he can't help but be curious of what it would be like if it actually happens. As such, the Late Night host proposed a deal with The Donald that would allow him to be president… on a new TV show.
Meyers began the segment by tripling down on banning Trump from his show for exiling the Washington Post from his campaign. He went on to bring up the rumors and reports that Trump's run is a publicity stunt for his brand, and he pitched the mogul a new series as a way for him to get out of actual politics and still have the joys of being America's leader.
"TV is the perfect place to accomplish all you want to do with your presidency. Because a lot of what you want to do is impossible in the real world," Meyers said.
"On TV, we just need to build a tiny part of the wall, and then we'll just CGI the rest. We can even write a scene for you where a judge outright admits he's biased against you, because he's Hispanic, and he's jealous because he couldn't get into Trump University and had to go to a lesser school, like Harvard."
Of course, Meyers admitted he never actually consulted his network about this, and they put up a legal disclaimer saying, "NBC has a problem with this offer. It is not real." Still, we can all dream of a Trump-starring show that would definitely be called Chicago President.
Watch above, via NBC.
[Image via screengrab]
— —
>> Follow Ken Meyer (@KenMeyer91) on Twitter
Have a tip we should know? tips@mediaite.com