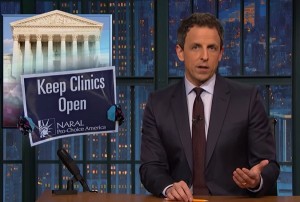 One of the most significant challenges to reproductive freedom is being fought before the Supreme Court, and while the mainstream media provides lukewarm "he said/she said" coverage of Whole Woman's Health v. Hellerstedt, a late-night comedian has managed to best them all in a casual five-minute segment.
At issue in the case is whether so-called "trap laws" place an undue burden on women seeking to access their constitutional right to safe, legal abortion, and while the case received some attention in the wake of Supreme Court Justice Antonin Scalia's death, the reporting has been thin and irresponsibly neutral. For example, reporters will often say that critics of Texas' law requiring abortions to be performed in Ambulatory Surgical Centers (ASCs) insist there's no medical basis for this, rather than the truth, which is that there is no medical basis for this.
Enter Late Night with Seth Meyers host Seth Meyers, whose regular "A Closer Look" segments normally focus on one or more rings of the political circus, but which took a turn Monday night by examining the Texas abortion laws.
It wasn't exactly the deepest dive imaginable, but with some canny humor and some cold facts, Meyers managed to outclass most of the coverage of this issue in a mere four minutes and change, and more importantly, did it in front of an audience that might not otherwise have been engaged on this issue.
With only eight justices on the Supreme Court right now, a 4-4 decision would result in the lower court ruling stand, closing all but ten of Texas' abortion clinics, and paving the way for more trap laws. "Real" news outlets should follow Seth's lead and have the courage to tell the truth about this case, and tell it loud.
Watch the clip above, from Late Night with Seth Meyers.
This is an opinion piece. The views expressed in this article are those of just the author.