Seth Meyers Presses Graham: Did You Think Iran Would Just Accept a Deal Without Compromise?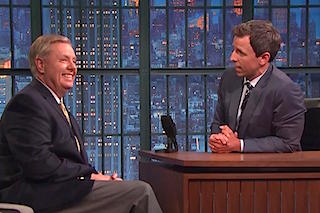 The Seth Meyers primary continued on Tuesday night. After appearances by Ted Cruz, Carly Fiorina and Bernie Sanders, Sen. Lindsey Graham (R-SC) took his turn on the Late Night couch last night where he made his strong opposition to the Obama Administration's nuclear deal with Iran known.
Meyers asked Graham why he opposes a deal that will prevent Iran from getting a nuclear weapon for at least the next 15 years. "When the Iranians say this is a win-win, it's probably not," the senator said, laying out the various benefits that Iran will receive as evidence that it is a bad deal.
But Meyers came back by pointing out that part of negotiation is finding a "middle ground" to which both sides can agree. "Are you saying there's nothing to negotiation?" he asked. "Or did you expect to sit down and have Iran say, 'All your terms we're good with?'"
Graham declined to answer that question and instead argued that the deal will create a "nuclear arms race" in the Middle East. "I wish it were a good deal," he said, adding that if he were president he would tell the Iranians, "You're not going to get a penny until you stop destabilizing the Mideast, wreaking havoc on your neighbors. You're not going get the arms embargo lifted until you change your behavior, renounce terrorism."
"If you want a weapon, you're not going to get it," Graham added. "If you want a war, you're going to lose it."
Of course, if those were the terms, there likely wouldn't be any deal at all.
Watch video below, via NBC:
[Photo via screengrab]
— —
>> Follow Matt Wilstein (@TheMattWilstein) on Twitter
Have a tip we should know? [email protected]