Seth Meyers Reveals Why He Was So Disappointed the Night Bin Laden Was Killed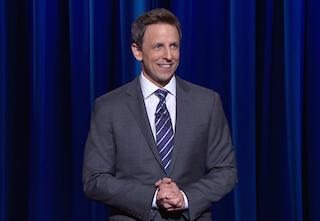 Seth Meyers appeared as a guest on NPR's Fresh Air Wednesday, and while most of his conversation with Terry Gross focused on his new role as host of Late Night on NBC, but she also asked him about his experience hosting the White House Correspondents Dinner in 2011.
Meyers hosted the dinner on Saturday, April 30th and unbeknownst to him the plan to raid Osama bin Laden's compound in Abbottabad, Pakistan was already underway. With the president just a few feet away, he joked, "People think bin Laden is hiding in the Hindu Kush, but did you know that every day from 4-5 he hosts a show on C-SPAN?"
The comedian said he was "blown away" by and "jealous" of Obama's ease and performance at the dinner, despite the fact that such an important mission was happening behind the scenes. "It required 110% of my concentration to do the job I did," Meyers said.
"I felt so good about the job I did at the dinner," Meyers said of his own "hubris" after such a momentous occasion in his career. "And I remember thinking, when the news comes on Monday, all they're going to do is talk about how funny I was on Saturday night, as long as nothing happens on Sunday, a notorious slow news day."
Of everyone in the country, he said he was probably the only one who was a little disappointed when he heard the news that bin Laden had been killed. "Aww, tonight?" he remembered thinking. "They got him tonight?"
Listen to the audio below, via NPR:
And you can watch Meyers' full speech below, via C-SPAN:
[photo via NBC]
— —
>> Follow Matt Wilstein (@TheMattWilstein) on Twitter
Have a tip we should know? tips@mediaite.com