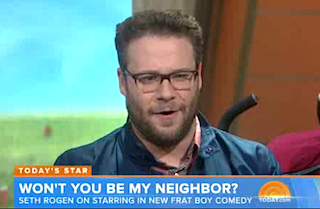 Seth Rogen really does not want to talk about Justin Bieber. But everywhere he goes, people keep bringing it up. The promotional tour for his new movie Neighbors brought the actor to The Howard Stern Show Tuesday and the Today show Wednesday, and in both cases Rogen was forced to explain why he's not a fan of the 20-year-old pop star.
The root of the supposed feud between the two Canadian celebrities dates back to January when Rogen sent out this tweet in response to Bieber's drag racing-related arrest:
All jokes aside, Justin Bieber is a piece of shit.

— Seth Rogen (@Sethrogen) January 23, 2014
Howard Stern brought up the tweet on Tuesday and asked Rogen to explain how he knows Bieber is, in fact, a "piece of shit." Rogen went on to tell the story of the first time the two met backstage at a German talk show. Bieber asked Rogen to come to his dressing room to meet him, but when he arrived the singer acted completely disinterested.
"I was like, 'What the fuck, I don't give a fuck about, I don't want to meet you. Don't act all nonplussed to meet me. I didn't want to meet you. I was totally cool not meeting you,'" Rogen recounted. "But I was like, fine, I wouldn't have said anything, I was like, 'He's a bit of a motherfucker. Whatever. He's young, the kid's a dick.'"
As for the tweet, he said it was a "nonchalant" one-liner that ended up getting retweeted over 200,000 times. "I seem to have tapped into something here," he told Stern.
Listen to audio below, via The Howard Stern Show:
By the time Rogen sat down with Matt Lauer Wednesday morning, the myth behind the Bieber feud had grown even larger. This time, Rogen seemed genuinely annoyed when the Today host asked him why he's being so tough on Bieber.
"Because people keep asking me about him, that's why!" Rogen said. "I would never say anything about him if no one asked me."
Rogen summed up the situation far more succinctly than he did on Stern, hopefully putting the feud to rest for good. "To me the idea that a grown man doesn't like Justin Bieber is not a controversial thought," he said. "Like, why would I? It would be much weirder if I did like Justin Bieber, to me."
When he suggested none of the Today staffers in the room liked Justin Bieber either, Lauer stopped him, saying they wanted to make sure they could still book him after this interview. "Everybody, applause for Justin Bieber," Lauer said.
"It's amazing though, anytime something like this happens, and I just say something that very clearly a lot of people feel and it becomes like a media thing," Rogen said. "But I don't know anyone that likes Justin Bieber!"
Watch video below, via NBC:
[Photo via screengrab]
— —
>> Follow Matt Wilstein (@TheMattWilstein) on Twitter
Have a tip we should know? tips@mediaite.com