Shame on Them: CNN Pundit Rips Fox for Letting Trump Get Away With Citing 'Tabloid Trash'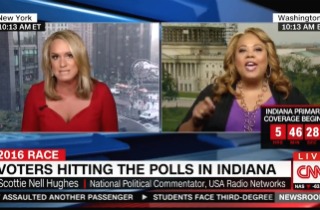 On CNN Newsroom, political commentator Tara Setmayer blasted off on Donald Trump by saying that his supporters and the media allow him to present conspiracy theories and half-truths as facts without being held accountable.
Trump appeared this morning on Fox & Friends, where he brought up an article from the National Enquirer that claimed that Ted Cruz's preacher father, Rafeal Cruz, was an associate of Lee Harvey Oswald before he went on to assassinate President John F. Kennedy. Trump said that the elder Cruz was "disgraceful" for encouraging voters to support his son on an evangelical basis, and Trump wondered why the Oswald story wasn't getting more play despite the fact that the Enquirer is known to support him and publish stories of questionable levels of truth.
Fox & Friends did not challenge Trump with his citation of the Enquirer, and Setmayer took it on herself to take them to task.
"Shame on Fox News for sitting there and actually engaging in that nonsense, that tabloid trash that is absolute, complete lies. Donald Trump can run around and say anything. Is he going to start questioning the moon landing and aliens in Roswell next and everyone just goes 'oh, well, that's because somebody said something else and that's his reaction.' It's making excuses for the ridiculous things and lie that is Donald Trump says that has allowed him to get away with it this."
Setmayer also digged at the "insanity" of Trump supporter Scottie Nell Hughes for constantly excusing Trump's outlandish comments. Hughes shot back that Cruz has lost his credibility among the American people, and the two proceeded to spar over who is a demagogue and who can actually be considered credible.
Watch above, via CNN.
[Image via screengrab]
— —
>> Follow Ken Meyer (@KenMeyer91) on Twitter
Have a tip we should know? tips@mediaite.com