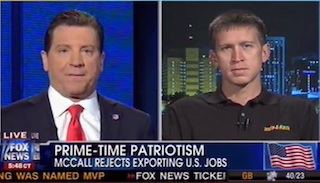 On Monday's Fox and Friends, guest host Eric Bolling interviewed entrepreneur Donny McCall, a contestant on the ABC reality show Shark Tank, who was promoting his Invis-A-Rack company and refused suggestions from the investors to off-shore jobs, which would lessen the production costs of his product.
McCall's pitch initially warmed the heart of Croatian-American investor Robert Herjavec, who bordered on tears as he discussed his immigrant father's first factory job, but ultimately rejected McCall's protectionism, saying, "I can't support something where you don't take care of the business, so I'm out."
RELATED: Shark Tank's Barbara Corcoran On Cable News As A Business: 'I'm Out'
"Are you still insistent that the product has to be manufactured here in America?" Bolling asked McCall.
'Oh, absolutely," McCall replied. "I won't waver on that, no."
Bolling asked if his company would mention that in its advertising.
"Oh, yes, we state that it's made in the United States and since the airing of the Shark Tank show we've had an overwhelming response of people who are in support of it and, you know, are insistent that we stay here, too," McCall explained, "It's high time that somebody stood up and not just bow down to the automatic of going to overseas to do anything."
Bolling commended McCall for keeping jobs in the country for his product.
"Thanks," he said, "for manufacturing that product here in America,"
Watch Bolling's interview of McCall below via Fox News:

And here's another contestant on the show who refused to outsource jobs:
Have a tip we should know? [email protected]