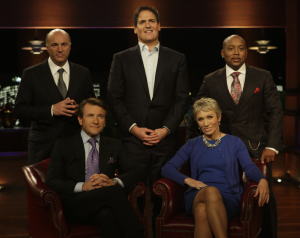 Reality shows love their catchphrases, from Survivor's "the tribe has spoken" to Top Chef's "pack your knives and go." At Shark Tank, the ABC show that puts entrepreneurs before a panel of wealthy sharks who might–just might–invest, the words you don't want to hear from a shark are "I'm out." It means you won't be getting any of their lovely money.
As Shark Tank's begun its second season (with the addition of its first billionaire shark in the form of Mark Cuban), Mediaite wondered what would happen if the hopeful investors standing on the Shark Tank carpet were CNN, MSNBC and Fox News. Is cable news a smart investment? We asked one of the sharks, millionaire real estate tycoon Barbara Corcoran, the only female shark, if would she jump at the chance to buy in to one of the three cable networks? And if so, which one?
Turns out, she's out.
"If it was CNN ten years ago, yes. Fox back then yes. Now, definitely not." Why not now? "Because I think it's a dying commodity. I really do."
And don't even think about pitching the network evening news–not even the dominant NBC Nightly News–to this shark. She's way out. "Forget about it. It's yesterday's model, why would anybody put money into that?"
What does get Corcoran's investor's ears to perk up? The web. "Everything's pointing to online. Get what you want when you want it. Whatever you want." The issue, to Corcoran, is that people are increasingly unwilling to simply sit down and watch a network evening newscast or cable news show, a process that means wading through stories you don't care about to get to the ones you do. Corcoran says today, people just don't want to watch TV that way. After all, the internet's right there, allowing hypercustomized streams of news. "Nobody wants to waste a minute. They want to waste many minutes on what they're interested in, and no minutes on what they don't want.
Shark Tank airs Friday nights at 8 on ABC. Corcoran's also written a book about the show and her own road to riches, SHARK TALES: How I Turned $1,000 into a Billion Dollar Business.
Have a tip we should know? tips@mediaite.com