Sharpton Blasts O'Reilly, GOP No-Shows at MLK Anniversary: So Much for Minority Outreach…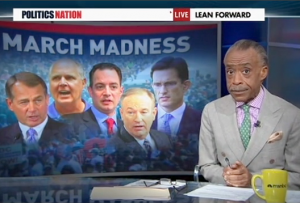 On his show Thursday, Al Sharpton called out conservative pundits for their over-the-top reactions to the speeches at the 50th anniversary of the March on Washington, as well as the Republican lawmakers who did not attend. Sharpton used the occasion to remark upon the Republican party's minority outreach attempts, saying sarcastically that maybe attending such a big civil rights anniversary might have helped a little.


RELATED: Al Sharpton Rails Against New Voting Laws: We Need to Fight 'Jim Crow's Children'
Sharpton recapped all the big reactions to the anniversary, from Bill O'Reilly slamming all the "grievance-mongering" to Rush Limbaugh saying that liberals are trying to "hijack" Dr. King for their agenda.
Sharpton also reminded viewers about the GOP's minority outreach plan as he explained that none of the Republicans invited showed up, and took O'Reilly to task for claiming twice on his Wednesday night show that they were not invited to begin with. Sharpton said if the GOP is really serious about minority outreach, "Maybe, I don't know, attending the March on Washington would have helped."
Sharpton then brought on Joe Madison and Goldie Taylor to continue piling on, finding it baffling how a party that wants to do more minority outreach didn't attend the event. Madison brought up the GOP "autopsy" report that laid out the party's new minority outreach, and noted, "Autopsies are done on dead people. This is a dead party! You can't––you don't do autopsies on living things!"
Watch the video below, via MSNBC:

—–
Follow Josh Feldman on Twitter: @feldmaniac
Have a tip we should know? tips@mediaite.com
Josh Feldman - Senior Editor