Sharpton Outraged At Zimmerman Verdict: 'An Atrocity,' 'Slap In The Face' To People Who Believe In Justice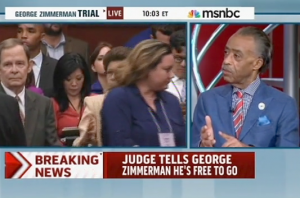 MSNBC host Al Sharpton has been one of the most outspoken media personalities in the country on the George Zimmerman murder trial, and even spoke at rallies alongside Trayvon Martin's family last year. So he was clearly more than disappointed with the Saturday night verdict that ZImmerman was not guilty, saying on MSNBC that the verdict is an "atrocity" and a "slap in the face" to people who have faith in the justice system.


RELATED: Sharpton, Martin Attorney Question Zimmerman Jury Selection: Can Mostly-White Panel Give 'Equal Justice?'
Sharpton did not hold back in his reaction to the verdict.
"I think that this is an atrocity. I think that it is–it is probably one of the worst situations that I have seen. What this jury has done is establish a precedent that when you are young and fit a certain profile, you can be committing no crime, just bringing some Skittles and iced tea home to your brother, and be killed, and someone can claim self-defense, having been exposed with all kinds of lies, all kinds of inconsistencies–we had to march to even get a trial–and even at trial, when he's exposed over and over again as a liar, he is acquitted. This is a sad day in the country. I think that we clearly must move on to the next step in terms of the federal government and in terms of the civil courts. Clearly we want people to be very disciplined and strategic, but this is a slap in the face to those that believe in justice in this country."
Sharpton has been criticized in the media for his personal involvement in the case, but in an interview he conducted with Zimmerman attorney Mark O'Mara a few weeks ago, Sharpton said that people need to respect the decision and all decent Americans should denounce the "ugliness" the case has dragged out.
Watch the video below, courtesy of MSNBC:
—–
Follow Josh Feldman on Twitter: @feldmaniac
Have a tip we should know? tips@mediaite.com
Josh Feldman - Senior Editor