Sharpton Slams GOP Rep. Likening Obamacare Fight to Civil Rights: 'You're Not Sacrificing Yourself!'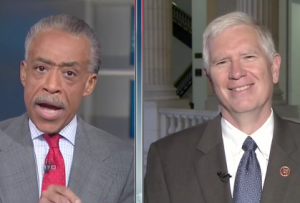 Al Sharpton has had a few Republican legislators on his show to debate Obamacare, but this may have been the first time a guest attempted to make the civil rights argument to Sharpton. Alabama congressman Mo Brooks defended the Obamacare battle going on in Congress, comparing Republicans to civil rights leaders, but that just set Sharpton off, asking him exactly what the GOP is sacrificing in this grand battle.
Brooks' contention over the possibility of a government shutdown was that Republicans are more than happy to fund 99 percent of the government, it's just the one percent that they want to debate. Sharpton sighed and said it was already debated, and Congress passed it, Obama signed it, the Supreme Court upheld it, and the Republican presidential candidate who ran on a platform to repeal it lost.
Brooks told Sharpton that he, as a civil rights leader, should know "sometimes the Supreme Court makes a mistake," saying it was good for Martin Luther King, Jr. to "persist in the face of having lost in the past." The analogy did not sit well with Sharpton.
"To equate those that would stand up and fight for civil rights, who would submit to going to jail and who would submit to things happening to them to raise their point–You're not sacrificing yourself! You'll get your check! And your colleagues will get their check! You're sacrificing others! That is not civil rights, that is not even civil, congressman!"
He continued, saying that the GOP has every right to make this a campaign issue in 2014 and try to win enough seats to undo it in the next session of Congress, but shutting down the government "while you get paid is not a profile in courage."
Watch the video below, via MSNBC:
Visit NBCNews.com for breaking news, world news, and news about the economy
[photo via screengrab]
— —
Follow Josh Feldman on Twitter: @feldmaniac
Have a tip we should know? tips@mediaite.com
Josh Feldman - Senior Editor