Sharpton Takes on Zimmerman Arrest: Does Anyone Think He Should Have Access to Guns?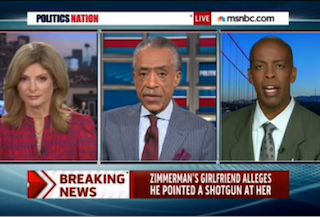 Al Sharpton dedicated a significant portion of his MSNBC show Monday to the arrest earlier today of George Zimmerman on charges of aggravated assault, battery domestic violence and criminal mischief. After playing portions of Zimmerman's girlfriend's 911 call on the air, Sharpton asked his guests to weigh in on the most recent arrest of the man who was acquitted in the murder of Trayvon Martin.
The return of Zimmerman in the news meant the return of MSNBC legal analyst Lisa Bloom, who spent many hours discussing the Trayvon Martin case and murder trial over the last year and a half for the network. "By my account, this is the third woman who's accused Zimmerman of domestic violence," Bloom said, pointing to a 2005 incident along with the more recent one involving his estranged wife Shellie Zimmerman.
"I certainly hope there is an investigation today and these charges, if they are true, are pursued by this young woman," she continued. "We can't have this over and over again: George Zimmerman accused of threatening people with guns. We see how deadly that can turn out."
"The real concern is how he responds when he is stressed," legal analyst Paul Henderson concurred, "or how he responds to people when he is frustrated and angry at them. And we see, again, that his first choice is to reach for a weapon and point it at someone. And we know his history here."
"It would be huge knowing that someone's pointing a gun at you that had, in fact, killed somebody," Sharpton said. "Even though he was found not guilty by the jury, there was no doubt he had used a gun and used it that led to someone's death."
Calling him the "Teflon defendant," Bloom suggested that "eventually he's going to catch up with himself." She asked, "Is there anybody who thinks it's safe for George Zimmerman to be at loose, even in his own home, with guns?"
Watch video below, via MSNBC:
[photo via screengrab]
— —
>> Follow Matt Wilstein (@TheMattWilstein) on Twitter
Have a tip we should know? tips@mediaite.com