Sharron Angle Tells Room Full Of Hispanic Students That They 'Look More Asian To Me'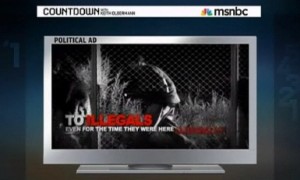 As Weekend Update's Seth Meyers has observed, the lamestream media is fond of deploying its two favorite tricks, record and play, but it looks like lamestream high school students are getting in on the act.
According to the Associated Press, Angle agreed to meet with the group "after students expressed anger with her campaign's anti-illegal immigrant message."
Angle deserves some credit for agreeing to meet with the students. However, she insisted that the event not be filmed, and as Countdown's Keith Olbermann noted last night, her responses to the concerned students left much to be desired.
Speaking clumsily about race is not an unforgivable sin, and Angle might expect to get the same benefit of the doubt that was granted to her opponent, Senator Harry Reid (D-NV), after his "negro dialect" remark. However, making commercials that feature scary Mexican illegals, then telling people they were actually Canadians, isn't the best way to show people that your heart is in the right place. As Greg Sargent points out, Angle's campaign has repeatedly made direct references to Mexico in campaign ads.
Angle would have been much better served by apologizing for the imagery, and making the case that illegal immigration is unfair to those who do follow the rules.
Sarah Palin may have been off base in casting Sharron Angle as the victim, since the only thing being "thrown at" Angle is Sharron Angle, but she's right about one thing: Sharron Angle is still standing. Despite a guano-level campaign, she has erased Harry Reid's polling advantage, and now holds a lead within the margin of error. With a little over two weeks to go, Reid has his work cut out for him if he wants to defeat his seemingly gaffe-proof opponent.
The focal point of that anger is her campaign's literal use of Mexicans as stock villains, which was beautifully outed earlier this month by satirist Stephen Colbert:


Have a tip we should know? tips@mediaite.com