Sharyl Attkisson Slams CBS News, Obama Admin's 'Chilling Effect' on Reporting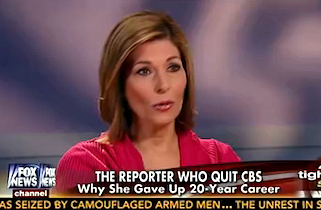 Sharyl Attkisson, an investigative reporter who recently resigned from her post at CBS News, took shots at both her former employer and the Obama administration on Media Buzz Sunday morning, accusing CBS News of being too compliant with the White House, and the White House of overtly trying to stifle reporting.

"I didn't run into that same kind of sentiment [at CBS] as I did in the Obama administration when I covered the Bush administration very aggressively," Attkisson said, adding that when CBS has a problem with a story, "It never runs. Or it dies the death of a thousand cuts, as some of us say. If it's something they don't want it will be changed and revised and shortened and altered so much that it's a shadow of its former self if it does air."
RELATED: Sharyl Attkisson: I Was Called 'Troublemaker' for Looking into Benghazi
Attkisson distinguished herself through continued reporting on various Obama administration issues, from Fast and Furious to, especially, Benghazi. She called the White House efforts to influence reporting a more intense version of what she encountered under previous administrations:
Now there've always been tensions, there have always been calls from the White House under any administration I assume, when they don't like a particular story. But it is particularly aggressive under the Obama administration and I think it's a campaign that's very well organized, that's designed to have sort of a chilling effect and to some degree has been somewhat successful in getting broadcast producers who don't really want to deal with the headache of it — why put on these controversial stories that we're going to have to fight people on, when we can fill the broadcast with other perfectly decent stories that don't ruffle the same feathers?
Attkisson said that efforts to paint her as a conservative journalist was "part of a strategy or campaign from people who don't like what you're doing."
Watch the interview below, via Fox News:
Part 2:
[Image via screengrab]
——
>> Follow Evan McMurry (@evanmcmurry) on Twitter
Have a tip we should know? tips@mediaite.com