'She Has a Very Good Bullsh*t Barometer': NBC News Chief Praises Savannah Guthrie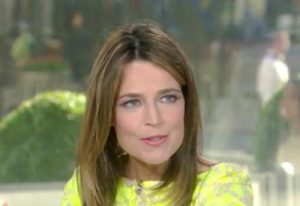 In a profile piece of TODAY co-host Savannah Guthrie in The Hollywood Reporter, NBC News chairman Andy Lack expressed admiration for her tenacity to push for answers.
Discussing her run-in with President-elect Donald Trump over his "appreciate the congrats" tweet in the wake of the Orlando mass shooting in June in which she told Trump everyone predicts another terrorist act will happen, Lack said it shows she can detect BS.
She characterized his "appreciate the congrats" tweets for predicting the horrific nightclub shooting in Orlando last summer as "unseemly" and asked him, incredulously, "Literally everyone predicts there will be another terrorist attack. Why are you giving yourself credit for something that everyone knows will happen, sadly?"

Trump claimed that her assertion was "completely false."

Says Lack: "One of the things I really do love about Savannah is she's game. She's up for the question, and damn it, give me an answer. I admire that about her. She's got a very good bullshit barometer."
Elsewhere in the piece, Lack also commented on Guthrie's reaction to the Billy Bush situation in regards to the notorious Access Hollywood hot mic moment with Trump. After she said she wasn't overly comfortable talking about it, and that she doesn't like to be part of the news — Bush eventually left TODAY and NBC — Lack said it is her job to detach "on a personal level from what he said."
Guthrie recently went on maternity leave as she is expecting her second child.
[image via screengrab]
–
Follow Justin Baragona on Twitter: @justinbaragona
Have a tip we should know? tips@mediaite.com