Shep Grills Earnest: How's Obama Feel About 'Being Lockstep with the Bush Administration?'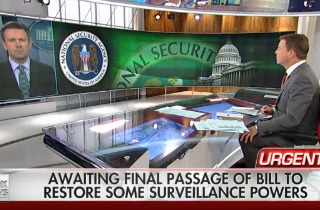 Shortly before the Senate passed the USA Freedom Act, Fox's Shepard Smith had a chance to grill White House Press Secretary Josh Earnest on the legislation that civil libertarian critics say does not go far enough to restrain the power of the federal government to use widespread surveillance techniques on American citizens.
Right from the beginning of the conversation, Smith went after the Obama administration for supporting similar surveillance state measures supported by the previous White House, as well as many current mainstream Republicans: "How's the president — and how do you, for that matter — feel about being lockstep with the Bush administration and the leadership in the House and Senate, and the Republicans?" Smith asked Earnest.
"What the president has supported for more than a year and a half are important reforms to these programs that would put in place civil liberties protections for the American people," the spokesman replied.
"What civil liberties protections?" Smith pushed back, citing his colleague Judge Andrew Napolitano's repeated assertion that the USA Freedom Act only creates a semantic difference between previous surveillance abilities and post-law ones. Under the new law, the National Security Agency would still have "no real court oversight," Smith maintained.
"Why is it okay, from the perspective of our constitutional expert president, for the rights of the people to be trampled in this way?" Smith pushed Earnest, who responded that "338 Democrats and Republicans in the House of Representatives" disagree with Napolitano's assertions, and that the law insists upon "legitimate court orders" for data collection.
Smith relayed the judge's belief that the FISA courts are "not legitimate," because they are not required to maintain records of their procedures, nor does anyone act as a public advocate against the court, nor does it pass constitutional muster. Naturally, Earnest reiterated the line that the majority of the U.S. House disagrees with that assessment.
And it went on and on.
Watch the full grilling below, via Fox News:
— —
Have a tip we should know? tips@mediaite.com