Shep Mocks CNN For Carnival Cruise 'Smotherage,' Recants When Realizing Today's News Involves Human Lives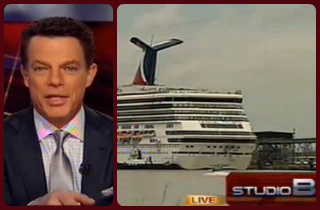 Oops! While reporting on the ill-fated Carnival cruise's newest troubles this afternoon, Fox anchor Shepard Smith took the opportunity to mock CNN's "smotherage" of the original February debacle; but then later apologized upon realizing that the latest turmoil for the ship may involve human lives.
The Carnival cruise ship Triumph is in trouble once more after it broke loose from its moorings in Mobile, Ala., this morning. Strong winds apparently forced the boat away from dock.
Teasing an upcoming report on the situation this afternoon, Smith mocked CNN for their wall-to-wall coverage of the ship's original troubles when it was stranded in the Gulf of Mexico for several days in February.
"Remember the Carnival cruise ship? All the people got stuck on it, they said there was feces everywhere. CNN did like, I don't know, 30,000 hours of live team breaking everything. Remember that? Well, it ended up landing in Mobile, Alabama, and look at this: It has apparently broken away from the place where they're holding it. We'll have some live coverage there coming just a minute on — I will call it the 'CNN cruise ship.'"
Watch below via Fox News, and then read on:
After commercial break, Smith must've realized that this latest ordeal involves a cruise worker falling overboard after the ship broke from its mooring. Sensing he might not look so good mocking the story when someone's life may be in danger, Smith recanted his earlier mockery and took a slightly different tone:
"We're hearing that crew workers actually fell into the water. When I was kidding about the CNN blimp and Wolf Blitzer and Anderson Cooper to give us live team CNN 'smotherage,' I didn't realize someone had been hurt. One of those workers is actually missing now.
"This looks a little more serious than I thought," he added before tossing to reporter Jonathan Hunt.
Watch below, via Fox News:
— —
>> Follow Andrew Kirell (@AndrewKirell) on Twitter
Have a tip we should know? tips@mediaite.com