Shep Smith Bashes 'Weird' Political Motives for Governors Quarantining Kaci Hickox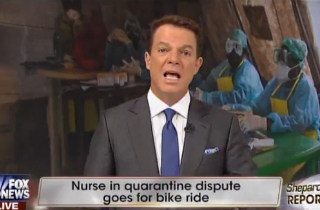 Fox anchor Shepard Smith noticed a pattern between the two governors who have attempted to place a mandatory quarantine on Kaci Hickox: They're both attempting to boost their political standing for upcoming elections.
Upon returning from West Africa last week, New Jersey's Republican Gov. Chris Christie ("Who is looking at 2016 potentially," Smith noted) attempted to place the Ebola nurse under a mandatory quarantine. After several days in a quarantine tent, Hickox returned to her home in Maine, where that state's Republican Gov. Paul LePage ("Up for re-election, and it's tight as can be," said Smith) is pushing for a mandatory quarantine but facing some legal challenges.
During Smith's report on the situation, the cameras went into "Shep's Take" mode, slowing zooming in on the anchor as he delivered the following sermon on the matter:
Think about what has happened here. A doctor goes to Africa to help stop a crisis so that it doesn't come here and so that she can help people. She comes home, she's not sick at all — a nurse, a health professional. She comes home, she's not sick at all. As you know by now, if you don't have symptoms you cannot give Ebola to someone else. And even if you do have symptoms, [the other person] has to be in direct contact with your bodily fluids.

So she's out in the middle of nowhere place in Maine and there's an election going on. And the polls show that the people are very much for the government telling the people that they can't do something for absolutely no reason. That's what's happened. And she's like, 'Are you crazy? I'll do what I want. You're punishing me for helping out with this situation? And I have to stay home why again? There's nothing wrong with me.' It's flat weird.
Watch below, via Fox:
— —
>> Follow Andrew Kirell (@AndrewKirell) on Twitter
Have a tip we should know? tips@mediaite.com