Shep Smith Challenges Military Guest: You're Comfortable Condemning Bergdahl Before We Know Facts?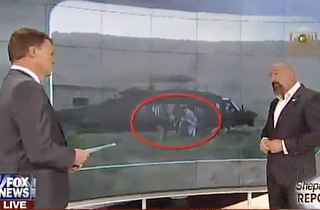 During a discussion of the exchange of five Gitmo prisoners for American soldier Bowe Bergdahl, Fox host Shepard Smith challenged former Navy Seal and FBI Special Agent Jonathan Gilliam over the fact that many Americans have rushed to outright condemn Bergdahl before we know all the facts of his five-year imprisonment.

Smith's pushback came after Gilliam lamented the prisoner exchange thusly [emphasis ours]:
If you look at the way this negotiation came out, they got to hand their guys over with a hug and a handshake on the side of the road. Our warriors had to fly into a hot [landing zone] with [rocket propelled grenades] all around that could take out these helicopters at any time, and take a prisoner that they haven't seen in five years, that potentially could have deserted and even committed treason by going over and sympathizing. They don't even know if he's wearing anything.
Shep stepped back for a moment, and pointedly asked:
Are you comfortable talking about this man in this way before an investigation is complete? Before we hear his side of the story? It doesn't sound like the kind of thing that America normally does. We usually wait to hear both sides of a story, we complete an investigation. If he's committed treason, or he's a traitor, then handle him in a way that you handle people who are treasonous or traitors. But let's get the facts first. It just seems like putting a cart way before the horse.
"I don't disagree with you there," Gilliam replied. "But this has been going on, this isn't just something that happened."
Watch below, via Fox:
— —
>> Follow Andrew Kirell (@AndrewKirell) on Twitter
Have a tip we should know? tips@mediaite.com