Shep Smith Delivers Some Sarcastic 'Breaking News': If Your Child Watches Too Much TV, It Will Be Fat!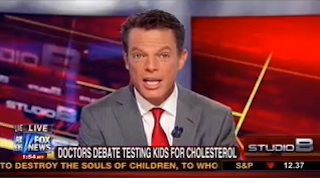 It's too bad The Colbert Report did their best-of segment on Fox News' Shepard Smith last night, because they missed a good moment from today. Just like Colbert said, Smith loves to put his own spin on the news and find the "real angle." He did just that, this afternoon, while listening to an expert discuss how our nation's children television habits are contributing to the obesity pandemic. To make sure people were able to get that through their thick heads (in addition to their thick everything else) Smith ordered his booth to give him the special "Breaking News" animation. Once they did, he sarcastically reminded viewers that, yes, letting your kids watch 18 hours of TV a week will make them fatties.
RELATED: Colbert Pays Hilarious Tribute To Fox News' Shepard Smith
Smith continued to mock the idea that anyone needed scientific studies to prove this:
There is breaking news now. If your child sits in front of the television, plays with the computer, eats Skittles and McDonalds hamburgers all day, it will be fat and have high cholesterol. Now back to our regular programming. This is some sort of revelation that we have reached here that tons of Doritos and chocolate milk and Coca-Cola will…? I mean, come on.
He also wondered if another one of the pandemic's causes was "parents feeding [their kids] bacon at every meal."
It's true, Smith has his own style. But he also tells the truth.
Except about True Blood. I just can't agree with him on that show.
Watch the clip from Fox News below:
Have a tip we should know? tips@mediaite.com