Shep Smith Gives Exhaustively Thorough Account of What He Had for Lunch with Obama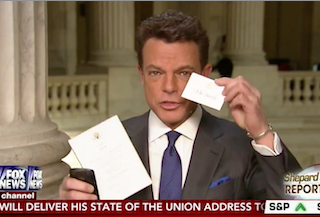 It's State of the Union day, which means that the White House hosted various TV news anchors to an off-the-record luncheon with the president. While those in attendance are not supposed to talk about what was discussed, they are apparently free to talk about what was ingested. Fox's Shepard Smith made this point very clear during his show on Tuesday, spending three full segments breaking down all of the delicious food her had — appetizers, entrees and dessert.
Smith started by describing the first course to Fox meteorologist Janice Dean, a "winter lettuce" salad with a "Reggiano crisp" or as Smith called it, " a cracker with air holes in it and tastes a little bit like cheese." He sat next to CNN's Wolf Blitzer, but said, "I'm not allowed to talk about what CNN people say. I don't know why. I got a memo on it." Smith was, however, allowed to discuss how Blitzer separated his vegetables on his plate.
Watch part 1 below, via Fox News:
Later, Smith cut Rick Leventhal's Super Bowl media day report short to move on to the main course from today's luncheon, "dry-aged Piedmontese beef." The anchor said he had "less than one glass" of Chardonnay with his entree. "It was quite delicious," he said. "And if we could have stayed for a little while, we could have had a great afternoon if we had enough of the wine."
Watch part 2 below, via Fox News:
Before signing off at the end of his hour on the air, Smith shared details on his dessert as promised. Smith did not know what "Cara Cara oranges" were before he had them in his tart. He wasn't quite sure how to eat it, but thankfully he was able to look over at Diane Sawyer and copy her style.
Watch part 3 below, via Fox News:
And, for the record, here is Shep's photo of the full menu:
[photo via screengrab]
— —
>> Follow Matt Wilstein (@TheMattWilstein) on Twitter
Have a tip we should know? tips@mediaite.com