Shep Smith Grills Romney Adviser: Can Campaign Ever Move Past Comments About The '47 Percent'?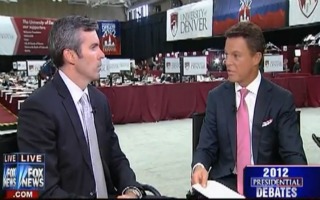 Kevin Madden, advisor to Republican presidential nominee Mitt Romney, sat down with Fox News Channel's Shepard Smith on Wednesday to discuss what the GOP nominee expects to encounter at tonight's first presidential debate. Smith asked Madden about the impact of Romney's comments about the "47 percent" of Americans who pay nothing in income tax and whether the campaign can ever move past those comments. Madden replied that Romney would outline how the nation's economic situation would improve under his leadership.

"I want to talk about the 47 percent comment," Smith began. "It feels like, if anything has driven the narrative and if anything has swayed numbers in the past couple of weeks, it's that." Smith asked if there was anything Romney could do to move the focus of the national conversation beyond those comments.
"I think the governor made clear that he was talking about that in a political context," said Madden. "It's always a mistake when candidates play analyst and, in that regard, he did and he said it intelligently."
"That's not what he said," Smith interjected. "He said that 47 percent of Americans believe that they are victims and that he can never convince them to take responsibility for their lives. That's not a statement that has anything to do with politics."
Before Madden could respond, Smith asked again if there was anything that Romney could do to move beyond the context he defined.
"I think it goes to the core of what he believes," said Madden. "The reason he's running for president is because he wants to help 100 percent of the American people."
Madden said that the voting public will see Romney ask the country tonight if they are satisfied with the last four years of governance from Washington.
Smith asked if Romney would "swing for the fences" in order to move the numbers by a significant margin.
"I don't think there is going to be some big moment that really radically changes the nature of this campaign," said Madden. He said that the way Romney will win is to appeal to the undecided voters who are disappointed with President Barack Obama and define how their affairs will improve under a President Romney.
Watch this segment below via Fox News Channel:
> >Follow Noah Rothman (@Noah_C_Rothman) on Twitter
Have a tip we should know? tips@mediaite.com