Shep Smith Is Disgusted With People Waiting To Watch Casey Anthony Trial…And So Am I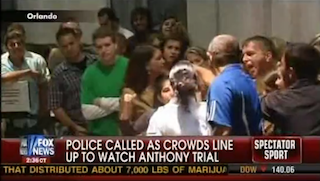 Hey, here we go! It's the most repugnant thing I've seen all week (and, by the way, I was the guy who pixelated this picture)! In Florida, more than a hundred people gathered to get tickets to watch the Casey Anthony murder trial and things got a little out of hand in a clip so unpleasant that Shepard Smith felt the need to publicly shame the entire Sunshine State.
"Can you believe this? A little girl has been murdered or died in someway and the mother's accused of it and this is what results? It's like Camp OJ all over again. The crowd appears to be taunting this one woman, yelling 'Get out of line! Get out of line!' We're told police and paramedics eventually and removed several people from the scene. Very impressive, Florida. You should be so proud of yourselves."
Well, that's what Smith said. Now, allow me to take his comments and add on my two cents:
WHAT THE F**K IS WRONG WITH YOU PEOPLE?
There are some forms of entertainment I don't see the appeal in, like my grandparents watching Two and a Half Men or my parents watching televised golf. And while I would never sit down and spend my time watching lazy double entendres without character development or a sport whose broadcast consists mostly of a lot of grass and old guys talking quietly, I still understand how other human beings could enjoy that kind of thing. But this?! What kind of sicko says to themselves, "Hey, I've got a day to kill. Why don't I head down to the courthouse so I can watch a woman cry as her father accuses her of murdering her daughter. Yippee!" Not only that, these people were so turned on by this idea that they through a freaking fit when they couldn't get in and the police had to lead them off!
IS THERE SOMETHING BROKEN IN YOUR HEAD?! IS YOUR LIFE SO F**KING AWFUL THAT THIS STORY IS THE ONLY THING THAT MAKES YOU FEEL BETTER IN COMPARISON? HOW CAN YOU ENJOY HUMAN MISERY THIS F**KING MUCH?!
Look, I don't go this far out on a ledge that much, and I've only let my true feelings about this case and the frenzied attention it receives show up a couple of times on this site, but this is something else. I've held my tongue watching Nancy Grace forcibly shoehorn her repulsive "Tot Mom" nickname (which she made up herself!) into every news story she does on it because I know she's only doing it for ratings. And speaking of ratings, it chills me to the bone that every Anthony-related post we put up gets enough traffic to sustain this site for a whole week, but I've kept my mouth shut. This though? This is just too damn much. People actually want to watch this trash in person?!
Maybe I'm just bitter because I spent my entire adolescence being told that the video games I played were going to turn me into a serial killer and I just know that some of the same idiots who made that argument are the people who now pour over every single new detail in this case. The same hypocrites who thought rap music was ruining a generation now know exactly where little Caylee Anthony's corpse was found and just how many pieces it was in.
Ooh, fun side note! I just Googled "Caylee Anthony" to make sure I spelled her first name right and look what Google's first common search term was:

That's right! "Caylee Anthony skull pictures." More people have searched for that than those searching for her name!
I used to think our society was way beyond the time where public lynchings were a good excuse for a picnic. It turns out that the only difference now is that people are just allowed to watch up until the body drops and the neck snaps. That part is private.
Everything else though? Just good, old fashioned entertainment.
Watch the clip from Fox News below:
Have a tip we should know? tips@mediaite.com