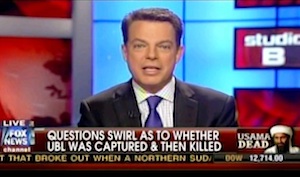 As is often the case with breaking stories — particularly those that come shielded from the fog of war — the very specific events often evolve, sometimes rather significantly, in the first few days that follow the breaking of the news. The story of how U.S. commandos captured and killed al Qaeda chief Osama bin Laden has been…an iterative one. Unfortunately, the variations of the stories have fueled a number of conspiracy theories and the skepticism of at least one respected news anchor: Fox News Shep Smith.
Smith opened his Studio B show just after the White House press briefing in which Press Secretary Jay Carney confirmed President Obama's decision to not release the photo of a dead bin Laden. But Shep focused on a number of inconsistencies in the official narrative of how bin Laden died at the hands of U.S. military, and seemed to imply that bin Laden may have been executed by US forces.
In the midst of his questioning, producers turned to a report filed from Fox News Pentagon correspondent Jennifer Griffin who interrupted the Fox News anchor's skepticism with a comment from the CIA spokesperson who specifically countered any claim that bin Laden had been summarily executed (perhaps after being interrogated) and that he was actually killed while resisting his capture.
To paraphrase the CIA spokesperson, the American people are left to believe either the accounts being reported in Pakistani outlets or the U.S. government. Why does that somehow feel like a lose-lose proposition?
Watch the clip below, courtesy of Fox News:
Have a tip we should know? tips@mediaite.com