Shep Smith Monitors Hurricane Progress As Fox News Reporters Brave Huge Waves And Heavy Winds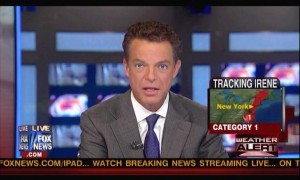 Hurricane Irene is slowly making its way through the eastern seaboard, and on Fox News today, Shepard Smith, who does not normally anchor on Saturdays, updated viewers on the latest on the scope of the hurricane and how it has impacted the region.
Powerful hurricane and tropical force winds have hit many areas in the southeast, and rain has been reported from New York to Wilmington, Delaware.
Smith cut to reporter Doug McKelway in Ocean City, Maryland, but because of an audio malfunction, they were unable to communicate directly. Nonetheless, McKelway delivered his report as waves peaked right behind him, describing them as some of the biggest he has ever seen in the region. Local officials are concerned that the heavy rainfall combined with a poor drainage system could pose a threat of flooding.
Smith cut directly to footage from Fox's local affiliate in Washington DC to highlight the attempts by local officials to place handbags strategically in the city. Smith praised all of Fox's affiliates in the hurricane-targeted areas for doing their best reporting in such difficult weather.
Smith has been praised in the past for his coverage of Hurricane Katrina in 2005, and so his dedication to keeping viewers informed about Irene obviously comes from a very personal place.
John Roberts, reporting from North Carolina, stood out in the middle of a field as heavy winds blow around him. Roberts said he was feeling the heavy part of the storm, but the eye is steadily approaching the area for a brief respite from the hurricane. Roberts also worried that New York could face the same harsh weather.
People have their fun with reporters who fall over while reporting on heavy weather, but for McKelway and Roberts to brave what most people wouldn't even dare venture into if their lives depended on it is admirable. News reporters provide a public service by informing people what to expect and how they can be safe.
Watch the video of the segment below, courtesy of Fox News:
Have a tip we should know? tips@mediaite.com
Josh Feldman - Senior Editor