Shep Smith On Trayvon Martin Shooter: 'Man Who Shot And Killed A Teenage Boy Still Has His Weapon'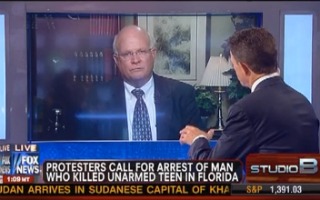 On Thursday, Fox News' Shepard Smith spoke with Florida State Representative Dennis Baxley (R), the prime sponsor of the state's much-scrutinized "Stand Your Ground" law — a law that, some speculate, is the only thing standing between Trayvon Martin shooter George Zimmerman and a formal charge.
"[I]f you read this statute carefully," Baxley explained, "there is nothing in this statute that authorizes pursuit in confrontation. And for that reason I think it simply does not apply. This is a self-defense statute where you defend yourself from violent attack. And you can't just look at the few seconds between these two men on a sidewalk. You look at the total context when you do an investigation of this nature."
RELATED: CBS' Jack Ford Explains FL's 'Stand Your Ground' Law's Role In Trayvon Martin Case
Smith focused on Baxley's observation that there is "more going on in Sanford" than the incident involving Martin and Zimmerman, adding that he believes it'd be fair to say that "Sanford has had its share of problems, controversy along racial lines."
He then asked if it'd be fair to characterize Martin's shooting as a case of "walking while black." Baxley agreed, being sure to note that this is more than a "Florida problem" and that the teen's death is "a picture, an icon" of a bigger, wider-ranging reality.
Baxley, who is also a funeral director (busy guy!), emphasized the importance of allowing Martin's family to grieve. "I don't know of anything more painful than the death of a child," he told Smith.
Smith then turned the conversation over to whether Zimmerman should still be in possession of his gun "after he has shot and killed a 17-year-old boy for 'walking while black'… to hear it from the locals"?
"Well, I certainly want to respect that we're innocent until proven guilty," Baxley cautioned, "and I also believe we need the rest of this story."
Have a look, via Fox News:
Have a tip we should know? tips@mediaite.com