Shep Smith Rails Against Afghanistan War: Men And Women Dying For Reasons That 'Escape Many Americans'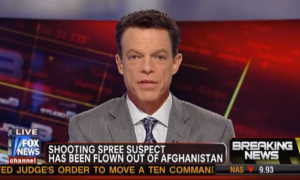 Following the news about the shooting of 16 Afghan civilians, Fox News' Shepard Smith spoke to Pentagon spokesman Captain John Kirby about the situation. The conversation touched on the nondisclosure of the shooter's identity, and then turned to the fate of the war. At that point, responding to Kirby's predictably diplomatic answers, Smith railed against the war, citing decreasing support and the corruption in Afghanistan.
Smith began the segment by mentioning the shooting incident, about which the Afghan people are "quite understandably livid," and asked why the shooter's identity has been "protected." Smith said, "If we were in regular judicial system here in America, we would know in a matter of minutes or hours, at the most, why is this man, accused of these heinous crimes, is being protected in this way. Explain." Kirby cited military policy that the name is released when the charges are levied, which is not yet the case.
Then, Smith pivoted to the war in general and, mentioning dwindling support, passionately asked how it can continue when men and women are dying for reasons unclear:
For how long can the Pentagon carry on a military operation which the American people have said in recent poll they do not support in the majority, which the polls suggest whatever support remains is eroding by the day? How can we continue this campaign, which frankly we won many years ago, and has now turned into a peacekeeping organization and nation-building where our fighting men and women are dying on a daily basis for reasons which, quite frankly, escape many Americans?
Kirby insisted the mission in Afghanistan is very clear: "To disrupt, dismantle and defeat Al-Qaeda, and prevent that country from ever becoming a safe haven for terrorists again." He also said that U.S. servicemen and women "believe they are making good progress with respect to the strategy." Smith continued:
I don't think anyone doubts that, but the problems seemed to be internal […] The problem seems to be now you have a president who is corrupt. He was brought into power under a corrupt election. And the people do not respect and do not trust. His brother is an opium farmer. And is feeding heroin to the world, 96 percent of the production is opium. And now we get word in recent days, that the Afghans are running drugs with some of the planes we have gaven them as we try to make them into a fighting force. You'll forgive Americans for asking, whenever we get out of there, what's to suggest that it won't go right back the way it was before?
Not surprisingly, Kirby replied that he understands the concerns, but that the military believes the goals are achievable.
Take a look, via Fox News:

Have a tip we should know? tips@mediaite.com