Shep Smith Reacts To Lou Dobbs Claim Market Rallying On Walker Victory: 'Blah, Blah, Blah'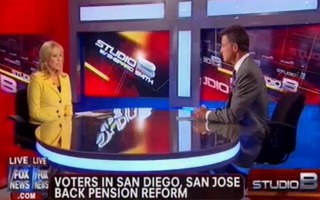 On Wednesday, Fox News Channel host Shepard Smith asked Fox Business Network host Melissa Francis for her thoughts on the ongoing market rally. When she mentioned that her fellow Fox Business Network host, Lou Dobbs, told her that he believed the market was rallying behind Wisconsin's Republican Gov. Scott Walker winning Tuesday's recall election, Smith rolled his eyes and said "blah, blah, blah."

RELATED: Shep Smith, Judge Napolitano Go Off On Feds For 'Trampling Our Liberty' With NATO Summit Arrests
Smith asked Francis what she thought of the Dow Jones market rally, which at the time of his broadcast was up by 217 points for the day. "Personally, I don't know why this is happening," said Smith. "What is this?"
"Depends who you ask," Francis replied. "I was talking to Lou Dobbs earlier and he was saying, you know, that this is a Walker rally. This is about people saying…"
"Blah, blah, blah," Smith interrupted.
"You're rolling your eyes," asked Francis. "You roll your eyes at Lou Dobbs? No one does that."
"I roll my eyes at Wall Street," Smith answered. "Wall Street knew days ago this is exactly – we all knew, this is exactly what was going to happen."
Francis said that it is possible that the market is rallying behind Federal Reserve Bank Chairman Ben Bernanke saying that the government could inject more liquidity into the system with a third round of quantitative easing.
Watch the segment below via Fox News Channel:
Follow Noah Rothman on Twitter
Have a tip we should know? tips@mediaite.com