Shep Smith Talks to Mediaite About Giving Up 7PM Hour for Innovative Breaking News Role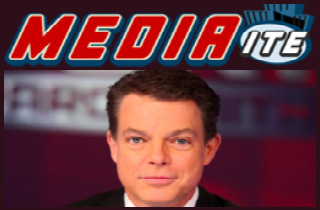 This afternoon, we learned that Shepard Smith will no longer anchor the 7 p.m. ET hour of Fox News primetime, but will vastly expand his role at the network.
Heading up a new "breaking news desk" for the network, Smith and a dedicated team will use their existing 3 p.m. show as a platform for delivering news that utilizes social media and breaking content in a "revolutionary" new way.

Additionally, Smith and his team will be responsible for breaking news throughout the day and night with the help of new software created specifically for Fox.
Mediaite talked to Smith about his new role and what it means for the future of news.
MEDIAITE: What will your new "Breaking News Desk" entail?
SMITH: We're no longer going to pretend that you're not reading Twitter and Instagram. What we want to do is vet it for you. We've got crazy new technology installed in the "Fox News Deck" to allow us to evaluate all our digital properties. We'll be able to vet information for our audience at a speed unseen before. Instead of the producers and writers of each show digging for breaking information, we will have a team dedicated to breaking news throughout the day.
M: What will this team do, exactly?
S: We will vet the information, track down the information, reporting what's being said, and try to make sense as you watch your own news feed. Historically, we moved the evening news to 7 p.m. because people weren't home in time. But now, we want the evening news to be in real-time — daytime, primetime, across all platforms. Fox has made an enormous commitment to modernize news; to make it fit in our modern lives.
M: How will this new breaking news team work with existing shows?
S: For the first time, we're going to run parallel control rooms. In other words, each program has its existing team that will only need to worry about their programming, while our new team is constantly working behind the scenes on delivering breaking information.
When your show has to be interrupted by breaking news, I'll do it for them. The wall between programming and breaking news gets higher. Instead of an existing show's team worrying about news-gathering, my team will cut in and take care of the breaking news — the other show can then plan their analysis.
We want to be the news arm separate from the programming arm. It's no secret Fox viewers want to tune in at 4 to see Neil Cavuto; but when something breaks, people will hear from me. This will give Cavuto's team time to plan their guests, etc., while I check facts and verify the breaking news.
M: It sounds like you plan to make social media a high priority?
S: We want to stop pretending people don't exist in the social media world. Even in cable, when there's breaking news, reporters are constantly checking their phones. Now, at Fox, we have a team dedicated to scoping out that information, confirming it, and finding people to talk about it.
When you break in with news, now we have people looking for and confirming information than we've ever had in the past. In some situations, we'll be on for a minute or for an hour. But just because I'm not on the air at any given moment, doesn't mean I'm not about to be. We'll constantly be combing for information, coming up with the breaking news items.
M: Any reservations about giving up the anchor desk for 7 p.m.'s Fox Report?
Everybody in this business grows up wanting to anchor a show. I never really wanted to be the anchor guy. I wanted to be there when things happen. Now I can be the quarterback calling audibles as the news goes all day. Fox Report was a real joy, but reading teleprompter and planning all day is one thing; doing this is another. We shouldn't tell you when we're gonna send the news; we should tell you the news as it happens.
I had a lot of opportunities when this contract came up, and I've got to say, I really wanted to do something new because I've been reading prompter for a long time. This new role allows me to do something innovative, and it's right up my alley. I'm truly excited.
— —
>> Follow Andrew Kirell (@AndrewKirell) on Twitter
Have a tip we should know? tips@mediaite.com