Shep Smith Tears Apart Congressman For Implying McCarthy Had Affair Without Evidence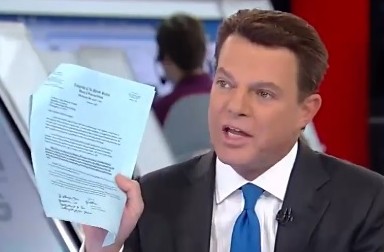 After Republican Congressman Walter Jones sent a letter to his colleagues calling on Speaker candidates to drop out if they had any "misdeeds"– which was widely interpreted as referring to rumors Kevin McCarthy had an affair— Fox News' Shep Smith pressed him to produce any evidence that any misdeeds actually happened.
Smith opened the interview by asking bluntly, "What do you know about Kevin McCarthy I don't know?"
"Well, I don't know," Jones said. "This was written primarily because I've been here 20 years, and I remember the night that [Newt Gingrich] stepped down, the next night Bob Livingston stepped down, and the chaos it put the Republican Party in."
"So randomly you just wrote to the conference leader and the conference, asking 'any candidates for Speaker of House, Majority Leader or Majority Whip to withdraw himself if there are misdeeds he has committed'?" Smith read off. "And at the bottom in your own personal handwriting you wrote, 'I believe this question is important to the integrity of the House.'"
"This doesn't sound like a man who is on a fishing expedition," he continued. "This sounds like man who knows something he's not talking about. Doesn't it? If you didn't write this, wouldn't you think that?"
Jones attempted a dodge that would make Keanu Reeves blush. "I would say I'm opposed to the way we finance campaigns up here, I am for a public finance in the campaigns. I see the influence of money here in Washington all the time, and I want somebody in the Speaker's chair that will not say 'You come to our fundraiser, and we'll pass your bill.' That happens all the time."
Unsurprisingly, Smith asked his question again. "You have written something so serious I have to ask the question again because you just didn't answer. Since you wrote this, I feel like we all deserve an answer."
Smith continued, "When you said, 'I'm asking that any candidates for Speaker of House, Majority Leader or Majority Whip withdraw himself…' and then you wrote, 'I believe this is important to the integrity of the House,' you've written and now I have to ask; what did you know?" Smith pressed. "Because who writes such a thing in a vacuum? Who fishes in such a way?"
"Well, Shep, this is the first time I've been on your show. You don't know me," Jones responded. "I will tell you this, if you ask any member of Congress in either party, 'Do you think Walter Jones is a man of integrity?' I would be very disappointed and surprised if anybody said other than I try to be a man of integrity."
"Oh sir," Smith responded, his voice definitely not dripping with sarcasm, "I have never questioned your integrity. What I've done is read your words of warning and asked why they were written."
"Well anything you want to read into it, you're welcome to read into it," Jones said. "I gave you an honest answer, that's all I can do."
Watch above, via Fox News.
[Image via screengrab]
——
>>Follow Alex Griswold (@HashtagGriswold) on Twitter
Have a tip we should know? tips@mediaite.com