Shep Smith: Why Would Obama Agree To Temporary Debt Deal When GOP Will Just Move The Goalposts?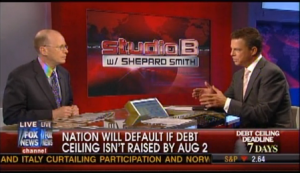 On his show earlier today, Shepard Smith wondered why President Obama would accept a temporary deal to raise the debt ceiling when the Republicans will change the terms of their negotiations anyway.
Smith was talking to Wall Street Journal assistant managing editor John Bussey about the current negotiations going on in Congress over raising the debt ceiling. Bussey pointed out that the Bush tax cuts and the wars in Iraq and Afghanistan cost more than the previous administration thought they would, and highlighted the fact that ratings agency S&P will downgrade the United States' debt unless a deal is struck that guarantees roughly $4 trillion in deficit reduction. He explained that while not as serious as a default, "rising interest rates [and] rising costs of capital for everyone."
Smith pointed out that S&P downgraded Japan's credit rating several months ago, but Bussey said that the effects of a downgrade in Japan "did not have the same kind of dislocation you would probably see in the United States." He warned that mortgage rates could go up and the United States would have to pay creditors more to take on the national debt.
What particularly interested Smith was why Obama would be willing to approve any temporary deal given the current political climate in Washington.
Why in the world would he allow this to go six more months and have to deal with this again? 'Cause he knows what the political opposition is going to do, they're going to move the goalposts like they do every time.
Bussey explained that Obama's intention is to resolve the issue so it won't have to be addressed again until after the 2012 election. Smith asked him what he thought the chances were that a deal would not be agreed upon and the United States would default. Bussey said he still believes that "they're not that foolish" and a deal will be agreed on, but the bigger question going forward is what kind of deal will they reach and whether it will result in a credit downgrade.
Watch the video below, courtesy of Fox News:
Have a tip we should know? tips@mediaite.com
Josh Feldman - Senior Editor