Shepard Smith: An Interview With The Hip Hop-Loving, Eli Manning-Texting Fox News Anchor
Shepard Smith: The Hip Hop-Loving, Eli Manning-Texting Fox News Anchor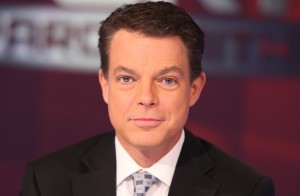 You might know Shepard Smith from his two daily shows on Fox News Channel. You might know him from the huge billboard featuring his face on the approach to New York City. You might even remember him from his bit role in 1997's Volcano. But chances are, you don't know a lot about him at all. His favorite beer? Heineken. His favorite music? Hip hop. His favorite politician? Right now, none of the above.
"I don't understand how people put up with this," Smith tells Mediaite. "On the left and the right. The crap coming out of their mouths right now — it just seems, to me, completely worthless."
Smith's an easy news personality to think you have figured out. He shows up on TV for a couple hours every day with the voice and look of a traditional newsman. His show — on the news side of FNC schedule, as opposed to the opinion block — doesn't afford him the freedom to go on long-form Bill O'Reilly-style rants or to cozy up to Victoria's Secret models to do a weather report. And he kind of likes it that way, preferring to focus on what he terms "real" — the straightforward news that cuts through all the fluff and opinion and just delivers facts. "I think what people like is real," he explains. "I think that's kind of what everybody is looking for, and it seems easier to me just to do real. I have a good time figuring out whats going on, trying to add context and perspective to it and telling people about it." Whatever formula Smith is using seems to be working; he's an integral part of the reason Fox News has spent 10 straight years as the top-rated cable news station.
Growing up in Mississippi, Smith was raised never knowing who his mother voted for in elections, an attitude that may have helped foster his ease with just reporting news and not letting his political opinion leak out onto the screen. In fact, the more you talk to Smith off set, the more you see just how much of a role his upbringing plays in his life. "I'm pretty well grounded in my Mississippi roots," Smith says. And that may be an understatement. He flew back home 21 times last year to visit family. He still goes to college games with his father, who hasn't missed a Mississippi football, basketball, or baseball contest in the last four years. He's a New York Giants fan not because he lives in New York, but because the team's quarterback, Eli Manning, also attended Ole Miss. In fact, Smith is a regular texting buddy with Manning, the Super Bowl's Most Valuable Player.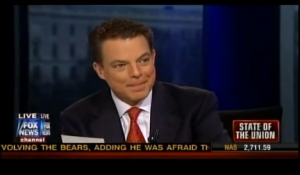 "I stay in touch with Eli and the Manning family," Smith says. "Eli Manning is a good man from a good family and I just think any kids growing up the New York area who want to find a sports hero — I think you can do a lot worse than Eli Manning. I'm just proud that he represented my school and remembers his roots and knows that he represents his family and the place he comes from. He acts right. And I'm just real impressed with him and proud to be friends with his family."
Smith's sports obsession doesn't end with the Manning family, either. He has a habit of sneaking sports segments into his shows, and sometimes does it to the point where he has to be reined back in. "Every time we do too much sports, they remind me that we are not a sports network. We have Fox Sports, we have 12 Fox Sports networks, or 25 of them or whatever they are. But I feel like, if we do what we are really interested in, we can maybe get our audience interested." He's also no stranger to sports bars, occasionally popping in to Manhattan spots to catch a game. And if someone recognizes him, they more often buy him a shot of whiskey than pepper him with questions about Fox News. Smith says that he's more comfortable talking sports, in fact, than he is talking politics. That is, if you can reach him to talk at all. "I go to the places where I know the bartenders and the managers and my friends and I can go in there and yell and scream at the TV and knock over cups and stuff like every ridiculous sports fan does," he explains. "Sports is a big part of my life."
NEXT>>>>"You don't go out on a first date not looking your best"
Have a tip we should know? tips@mediaite.com