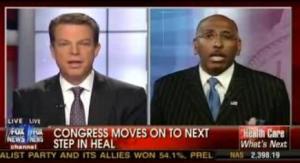 FNC's Shepard Smith and RNC Chairman Michael Steele had a heated exchange today over the language being used by Steele and other GOP leaders to describe just how bad this health care bill actually is.
The major part of the disagreement stemmed from the use of the word "Armageddon" by Steele – but Shep also put Steele on the spot with his plan to fire Nancy Pelosi.
Smith asked Steele about David Frum's "Waterloo" column today, and Steele brought the conversation to firing Nancy Pelosi (a new website he touted several times). "This is my message: I'm asking Americans to join me across this country in firing Nancy Pelosi," he said, to which Shep eventually interrupted: "I heard this talking point last night and I want to move forward."
More from Shep:
I want to know how people are supposed to help you fire Nancy Pelosi. And specifically, would it be the people who had a pre-exisitng condition and couldn't get insurance but after the President signs it tomorrow can, would it be the child who had a disease but couldn't get treated because they didn't have any money, who would be able to be treated for that tomorrow, or who would it be who would want to be firing Nancy Pelosi?
Tough question to answer, of course. "The people who want to be able to make those decisions without the government sitting between them and their doctor," started Steele.
Then Shep turned to rhetoric. He fired these questions while Steele tried to answer each: "Is this Armageddon, Mr. Chairman? Mr. Chairman, Armageddon? Seriously? Armageddon, Mr. Chairman, would you like a definition?"
The conversation continued after the commercial break, with Shep sticking to his line of questioning calmly, but pointedly – and Steele stayed on message.
Here's the interview:

—–
» Follow Steve Krakauer on Twitter
Have a tip we should know? tips@mediaite.com