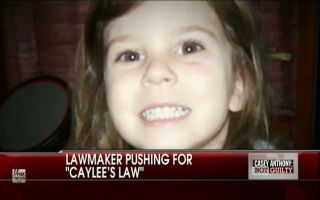 Florida congressman Bill Hager is pushing for a new law that would make it a felony to not report the disappearance of a child in a timely manner. The so-called "Caylee's Law," named for the two-year-old daughter of Casey Anthony, most likely has a little something to do with the anger and frustration many felt after learning that Anthony had spent 31 days partying rather than reporting the "disappearance" of her young child. Of course, we now know that Caylee wasn't missing at all but, rather, dead and discarded.
Watch Fox News' segment on the proposed law, where Studio B host Shepard Smith freely admits he "doesn't understand what the motive is." Things got a little heated, to say the least:
John Stossel is another reporter who has misgivings about the bill. In a FoxBusiness.com blog post titled "Dead Children Make Bad Laws," (Sensational? Sure. More sensational than naming a piece of proposed legislation after a deceased young child currently in the glare of the media spotlight, even if that legislation has little to do with the circumstances surrounding that child's tragic death? Eh…) Stossel brings up a few practical concerns (and a strongly Libertarian take) where the passage of Caylee's Law is concerned:
What if the child has a history of getting mad and running away for a day? Or a week? What if the kid sleeps over at a friend's place?

Salon.com points out that laws named after victims and passed in an emotionally charged atmosphere have a bad track record. Almost all the laws that go after sex offenders – "Megan's Law", the "Adam Walsh Act", "Dru's Law", and "Jessica's Law" – are named after victims. Yet as I've reported, those laws are responsible for locking up and stigmatizing innocent kids, like sixteen year olds who have consensual sex with a peer.

The government criminalizes too many things. Murdering your child is already against the law. So is lying to the police. We don't need more laws.
While Smith's main issue seemed to be, appropriately enough, "What in the world does this have to do with Caylee, other than piggybacking off her name and the notoriety of her case?," Stossel adds an additional concern for innocent parties whose lives could be adversely impacted by the passage of such a law. And both men seem to support the same basic idea: that legislation should be based on rational, intelligent, well thought-out means of protecting lives and liberty, and not on heightened emotion or (cynicism alert) appropriating national tragedies in order to gain political points.
But what say you, Mediaite commenters? Is Caylee's Law a good idea?
Have a tip we should know? tips@mediaite.com