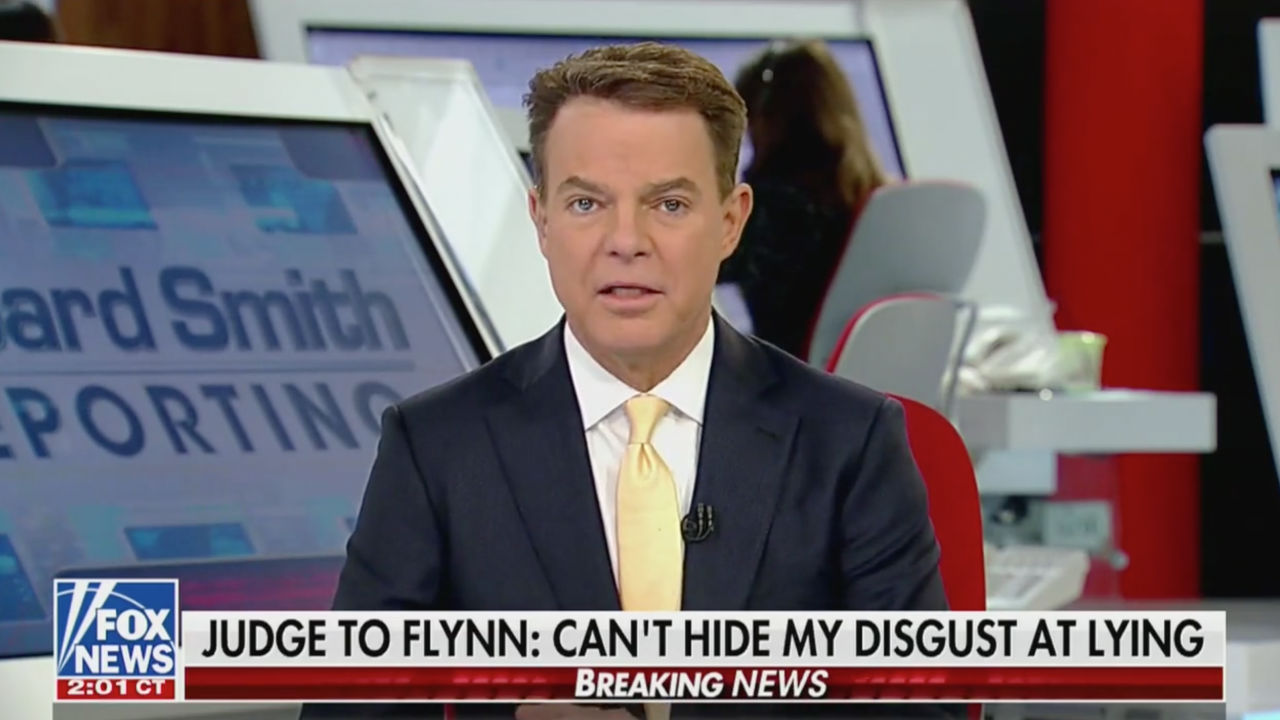 You're probably wondering why one of our year-end lists is singling out a particular Fox News anchor. Well, cable news devotees know that Shepard Smith is a unique presence at Fox News, and the anchor has had a wild year. Some of the commentary on Shepard Smith Reporting feels – at some times more directly than others – like a direct pushback against what other Fox News hosts are saying about the given news of the day, particularly when it comes to the current White House.
And at a time when Fox News' opinion programming has been embraced by the President of the United States as a safe space of sorts, Smith's commentary is notable, and he's carved out a name for himself as one of the most-talked about anchors on television.
So we've put together a list of the top 10 moments from Smith from 2018 for you to look back on this Christmas season.
1. "No One's Coming to Get You."
Back in October, when the President was talking quite a bit about the migrant caravan, Smith devoted multiple segments to telling viewers this is just fear-mongering (even implicitly pushing back on a Fox & Friends segment that spurred on the President's latest missive).
And one of those days, he said that this is all about the midterms, directly telling viewers, "There is no invasion. No one's coming to get you. There is nothing at all to worry about. When they did this to us, got us all riled up in April, the result was 14 arrests. We are America. We can handle it."
2. Tanks for the Memories
Remember when Trump's military parade was a thing? As everyone covered the possibility of this happening, and Fox News' Jennifer Griffin reporting the ideal was met with an eyeroll at the Pentagon, Smith got a little snarky and couldn't help but suggest, "They could give him replicas. Little mini replicas. I mean, he wants to see what he has. I had some of those when I was a kid."
3. If the President is Unfit…
All the way back in January, when Michael Wolff's Fire & Fury was the talk of Washington, the author claimed that pretty much everyone around Trump questions his fitness for office. And in a year of more anonymous quotes from White House officials about how bad things are getting — including that now-infamous op-ed — Smith raised the question of what moral obligation these people have.
"If you are of the belief that the president of the United States is unfit, if you have access to the most powerful man in the world, the man who is in charge of a nuclear arsenal that can annihilate the planet, and you believe he is mentally or otherwise unfit, you have an obligation to step forward," Smith said. "Not to talk to a writer who has a semi-permanent seat in the West Wing. You have an obligation — you're duty-bound to come forward and say 'I don't believe Donald Trump is fit for office and we're in danger as a result.' Do you not?"
4. "Is It an Investigation or a Cover-Up?"
The U.S. still does not have sufficient answers in the murder of Jamal Khashoggi. And After Secretary of State Mike Pompeo went to Saudi Arabia and assured reporters they would conduct a thorough investigation, Smith was incensed at the idea of just letting the Saudis "investigate themselves."
He was so incensed that he went off on the entire U.S.-Saudi Arabia relationship, saying, "This nation has been defending that oil-rich kingdom since long before 15 of its citizens were among the 19 high-jackers who wrecked our world and killed our people by the thousands on 9/11. Depending and thanking for their commitment to transparency. The Saudis transparent. What could be more preposterous? Were the desert not covering with oil, would any of this be happening?"
5. "Somebody's Lying."
Some press outlets have been criticized for being hesitant to use the word "lie" regarding statements from the White House. Smith has shown no such hesitance. And in June, Smith tried to make sense of the contradictions in all the stories about Don Jr's statement on the Trump Tower meeting, bluntly telling his audience, "It's one of those days where somebody's lying. We're just not entirely sure who it is."
6. The Elephant in the Room
Everyone understands Fox News' place in the current media ecosystem, and Smith has been known to bring that up in talking about White House messaging. Just recently he alluded to commentary about Flynn from Fox that was refuted during his sentencing hearing. But back in May, he was a little more direct, saying that there looks to be a "concerted effort" to put people on TV, particularly "this channel," warning Trump not to speak to Robert Mueller.
7. "Seriously?!"
This one is perhaps most notable on the list, at least in terms of being at odds with Smith's primetime colleagues. Talk of investigations into Hillary Clinton continued all throughout 2018, and earlier this month, when Fox News' Catherine Herridge noted how Republican critics of Robert Mueller's have argued Michael Flynn is being treated worse than Clinton, Smith expressed a great deal of exasperation.
"I mean, Hillary Clinton, seriously?" he asked. "That investigation is over, and we're onto a new one."
8. "Strictly to Be Entertaining"
But disagreements over Trump are one thing. Making public comments about others on your network is quite another. And for cable news junkies, perhaps the most interesting moment from Smith this year was a dust-up back in March when he made a comment to Time magazine about how "some of our opinion programming is there strictly to be entertaining."
He didn't directly name his primetime colleagues, but two of them actually responded. Sean Hannity called Smith a friend but said he's "clueless about what we do every day." Laura Ingraham tweeted that his comments were "inconsiderate & inaccurate."
9. Smith vs. Wallace
Smith regularly speaks with Wallace on his show, and while the segments are generally light, things got pretty heated when they discussed the insane man who sent bombs to rhetorical targets of the President. They argued over the issue of factoring in said rhetoric and divisiveness into this man's actions. Smith said you can't ignore the politics, and Wallace shot back that you can't hold Trump responsible for the actions of a twisted individual.
"To ignore the elephant in the room," Smith said, "Is just, you know, it's a fool's folly."
10. "Journalists Are NOT the Enemies of the People."
After the White House banned CNN reporter Kaitlan Collins, Smith devoted a monologue to standing up for freedom of the press and pushing back against the President's rhetoric:
"When the president attacks journalists, we question his motivation and try to discover the underlying reason. For historically, those that regularly and as a matter of pattern attack the messenger, who degrade and belittle the purveyors of truth, and work to diminish the free press, often find the facts displeasing, and endeavor to keep you from knowing them."
Have a tip we should know? tips@mediaite.com