Sheriff Arpaio On Criticism Of Gov. Brewer's Immigration Directive: 'It's Sad, Bringing Politics Into This'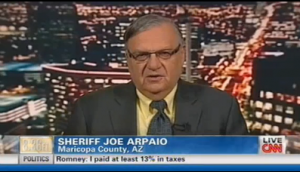 Soledad O'Brien invited outspoken Arizona sheriff Joe Arpaio to Starting Point Friday morning, speaking with him about Arizona governor Jan Brewer's decision to respond to the President's "deferred action" take on immigration by issuing a directive of her own, denying IDs and state benefits to young undocumented immigrants.
O'Brien asked Arpaio if he intended to follow the state or the feds.
"Well, you know, I like to follow the state," said Arpaio. "They are suing me in federal court, the Department of Justice accusing me of racial profiling and other things. So I'm the elected sheriff; I'm going to enforce the state laws. I took an oath of office and the federal laws that we have been doing in the past."
"Why did the President sign an executive order at this time when there's an election coming up?" he continued, responding to an editorial in the Arizona Republic (which Arpaio says he does not read because it's not a "good source") arguing that Brewer's directive is not helpful to the GOP in a Latino-heavy state during the election season. "So this is definitely politics, this whole situation on illegal immigration. And the White House and Congress one of these days should look at it, forget the executive orders, but get some laws passed. That's what should be happening."
Arpaio then noted that he himself is up for re-election and is aware that "some Latinos" don't like what he's doing in his role as sheriff. That said, he's not concerned about politics, only in doing what he was elected to do. In fact, he opined that "it's sad bringing politics into this."
Check it out, via CNN:
Have a tip we should know? tips@mediaite.com