Sheriff Joe Arpaio: 'Enforcing The Law Overrides My Compassion' For 'The Mexican People'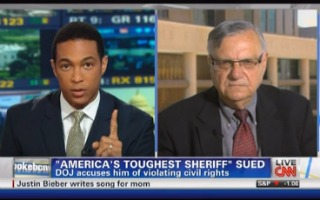 Sheriff Joe Arpaio — also known as "America's toughest sheriff" — made an appearance on CNN Friday afternoon to discuss the lawsuit being brought against him by the Department of Justice, which is accusing Arpaio and his department of allegedly violating civil rights.
Arpaio told CNN's Don Lemon that he isn't "going to stand" for the DOJ's actions. "I don't like the Justice Department saying we are racist, that we have a pattern of racial profiling," he said.
RELATED: Ed Schultz And Guest Take On Judge's Racist Email, Joe Arpaio's Birth Certificate Conference
"I'm not going to let the federal government run my office," he added. "I'm the elected, constitutional sheriff. I report to the people."
Later, Lemon highlighted a case where a pregnant Latina alleges she was profiled and mistreated by officers. "You mean one case out of 51,000?" Arpaio retorted.
Lemon then brought up a comment Arpaio had made in 2009, when he'd noted that his department must be doing something good if "they" — Latinos — are leaving the country. "How can you say that," Lemon asked, "when your county is 30 percent Hispanic and that percentage is growing quickly?"
Arpaio clarified that he'd been talking about his measures having acted as a deterrent against illegal immigration remaining within the United States.
"I have compassion for the Mexican people," Arpaio added. "I lived there for four years; I was a director there. South America, Turkey, Texas. So I know where the U.S. border is, having been the top law enforcement guy there for all of twelve years. I have compassion. But I'll tell ya: Enforcing the law overrides my compassion."
Later, Lemon told Arpaio that some have criticized him as being merely a "bully with a gun" or a "jerk," to which Arpaio responded that he doesn't carry a gun, even despite the threats against him.
Watch, via CNN:
Have a tip we should know? tips@mediaite.com