Shocker! Author Of Sarah Palin Expose Claims Her Presidency Would Be 'Disaster For The Country'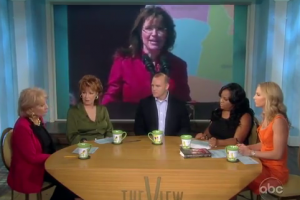 File this under the "duh" category. The former aide to Sarah Palin and author of the new book Blind Allegiance to Sarah Palin: A Memoir of Our Tumultuous Years, Frank Bailey, is making the rounds promoting his tale and happily unleashing the most outrageous statements possible to draw himself attention and sell books. Good for him, his entrepreneurial spirit and sense of self-importance could maybe be admired by some for demonstrating a willingness to do whatever it takes to achieve his own measure of justice for whatever wrong Palin allegedly did to him. However, shame on anyone who doesn't recognize this for what it truly is: a petulant former staffer angry that Palin's rocket to worldwide notoriety didn't bring him along for the ride.
Bailey appeared on The View and Barbara Walters repeated some of his juiciest charges leveled at Palin, including calling her "vindictive, power-hungry, someone who would use her staff to seek personal vendettas against anyone who spoke bad of her" and claiming that her marriage is not what people think it is. When asked what he thought about the possibility of Palin running for President, Bailey didn't attempt to sugarcoat it (or maybe with him, this is sugarcoating):
"I believe it would be a disaster for the country. We need leaders who are going to be strong, principled and honest. . . . She is not principled, she is not strong, she could not handle criticism."
Bailey argues it's not his goal to destroy Palin, but instead wants everyone to "hold our leaders accountable" and that Palin is someone who doesn't tell the truth. Given the fact brought up by Elisabeth Hasselbeck that Bailey himself has been charged with ethical violations and is alleged to have used stolen emails in the book, why exactly should anyone trust him as a credible source? Regardless, his personal crusade for retribution fits the narrative that many would like to believe about Palin so it shouldn't be too surprising that Bailey will continue to generate mainstream publicity. Yet you know what would really be newsworthy? An angry former aide who regrettably can't help but admit that their one-time boss actually would be a good President, now that (and only that) should warrant headlines.
Watch the clip from ABC below:

Have a tip we should know? tips@mediaite.com