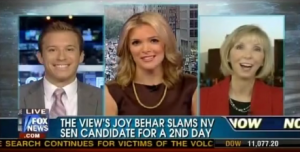 Joy Behar has been persona non grata over in conservative circles ever since she walked out on Bill O'Reilly a couple of weeks ago. The anger against her has only strengthened now that she's called Sharron Angle a "bitch" two days in a row. Earlier today, Mediaite's own Steve Krakauer had the unenviable task of defending Behar to Megyn Kelly on America Live.
Krakauer agreed with Kelly that Behar can say things that Angle can't because she is a comedian, not a political candidate, and therefore has more leeway. He also made the point of comparing her to Dennis Miller, who frequently gets away with saying some edgy things on Fox (perhaps a better example would have been the folks over at Red Eye).
I spent most of the segment being fascinated by the other guest on the panel, Sonja Eddings Brown of the conservative women's group The Kitchen Cabinet. While Eddings Brown did make some wise points about Behar helping Angle's cause (she called the View host "the best player on our team"), she also tried her best to politicize the topic at hand (at one point, Kelly had to point out that liberal women are, in fact, women too) and discuss the rise of conservative woman as a political force. She also took a weird potshot at the National Organization of Women, whom she apparently likes to call the "National Organization of a Few Women."
Whatever the panel's disagreements, they all came together in support of Krakauer's final point; that after Angle wins her race, she should totally go on The View. Absolutely.
Check out the clip from Fox News below.

Have a tip we should know? tips@mediaite.com