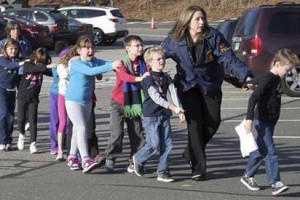 Following the horrible news out of Connecticut yesterday has been kind of sickening. It's difficult for any of us to fathom the kind of sick mind that would shoot innocent children. But as the media coverage has unfolded over the course of the day, one particular aspect of it has disturbed many people following the reports: the decision by a number of news networks to put young children in front of a camera to tell millions of people what happened to them. Following tragedies like this, people obviously want eyewitness accounts, but is it really the best idea to put young elementary school children in front of a camera hours after their schoolmates were killed so they can describe the horrors they just went through?
RELATED: MSNBC's S.E. Cupp Breaks Down On The Air Discussing Connecticut School Shooting
Let us first keep in mind that these are little children, between the ages of 5 and 10. I understand media outlets wanting to talk to them after a tragedy. But you are asking young children to relive the most horrible and terrifying experience in their life in front of a television audience, and that should be enough to give someone pause before deciding they need to get some kids in front of a camera.
Now, the obvious rebuttal to this is, "Well, they wouldn't go on camera if their parents weren't okay with it." Well, even so, it's still wrong to approach a child in shock and convince their parents that they really want to hear the perspective of children. As Reuters' Tim Molloy put it, "[I]t feels bizarre, exploitive and just plain stupid to put microphones in the faces of young witnesses, even if their parents… agree to interviews in the moment."
One CNN reporter actually posed this question to a young girl:
"Was everybody crying, scared, wanting their parents to come get them?"
Does anyone seriously think this is the kind of question we should be asking a child in the wake of a serious tragedy?
And putting aside the morality of this whole thing, Children might get details wrong. They might be in shock and people around them may not realize. There are any number of reasons why interviewing children is a bad idea. Conversely, there are obviously a number of circumstances where, when dealt with appropriately, such interviews can be warranted. The Dart Center for Journalism & Trauma has a great post from early last year featuring guidelines on how journalists should conduct themselves with children in situations like these.
—–
Follow Josh Feldman on Twitter: @feldmaniac
Have a tip we should know? tips@mediaite.com
Josh Feldman - Senior Editor