Shouldn't MSNBC's Alex Wagner Disclose Her Ties to Obama When Cheerleading His Policies?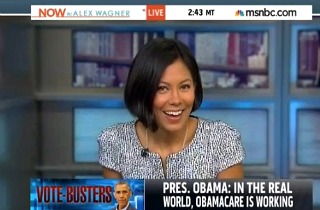 The next time MSNBC's Alex Wagner takes out her pom poms and merrily cheers on one of the Obama administration's policies, shouldn't she disclose that she's now married to one of the president's senior advisers?
Wagner's husband Sam Kass, currently the president's senior nutrition policy advisor, used to literally feed Obama as a White House chef, and yet Wagner, as she did on Thursday, is allowed by MSNBC to tout the Affordable Healthcare Act as a "success story" without letting her audience in on her own strong connections to the White House.
Obama was — this isn't a joke — a guest at Wagner and Kass's wedding in late August.
The only way Wagner could be more in bed with the White House is if she pulled back the sheets and told Kass to scooch over.
It's safe to say viewers aren't confused about anything MSNBC puts on the air. Rev. Al Sharpton has his own show on the network and his support for Obama stops just short of helping pick out the president's next cabinet member.
Wait. Sharpton actually claims to be doing that. Never mind.
The difference between Sharpton and Wagner, however, is that Sharpton has always been an activist. In 2011, before he even had a show on MSNBC, he said he will never publicly criticize Obama, lest it aid the president's opponents.
Wagner has a history of progressivism but she was also once a reporter for Politics Daily and then for the Huffington Post.
Sharpton never had a news background; Wagner does.
Is it too much for the program's producers to occasionally throw up disclosure graphic? "Attention: the pro-administration opinions expressed on this program belong solely to the host who, along with her White House staffer husband, received an exquisite crystal punch bowl from the Obamas on her wedding day."
As our EIC Andrew Kirell noted earlier this week, extra disclosure from cable pundits never hurt anyone.
MSNBC has not responded to our request for comment.
Watch an example of Wagner celebrating her friend Obama, below via MSNBC:
[Photo via MSNBC/screen grab]
— —
>> Follow Eddie Scarry (@eScarry) on Twitter
Have a tip we should know? tips@mediaite.com