Shredded Police Documents Found Among Confetti At Macy's 2012 Thanksgiving Day Parade
Shredded Police Documents Found In Confetti At Macy's Thanksgiving Parade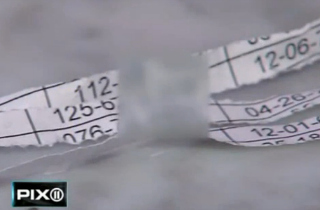 So… this can't be good.
Several attendees at Macy's Thanksgiving Day Parade found among the endless stream of confetti something quite alarming: confidential police documents, shredded but still legible.
Local TV station WPIX reports that the documents belonged to New York's Nassau County Police Department. College student Ethan Finklestein found the sensitive documents among the paper that hit him during the parade.
WPIX reports:
"It landed on [a friend's] shoulder," Finkelstein told PIX11 News, "and it says 'SSN' and it's written like a social security number, and we're like, 'That's really bizarre.'
It made the Tufts University freshman concerned, so he and his friends picked up more of the confetti that had fallen around them.

"There are phone numbers, addresses, more social security numbers, license plate numbers and then we find all these incident reports from police."

One confetti strip indicates that it's from an arrest record, and other strips offer more detail. "This is really shocking," Finkelstein said. "It says, 'At 4:30 A.M. a pipe bomb was thrown at a house in the Kings Grant' area."
Macy's denies that it was the source of the confetti, telling WPIX that its official confetti consists of punched-out circles of colored paper, as opposed to the long shreds discovered by Finklestein. The Nassau County Police told WPIX that the Department is "very concerned about this situation. We will be conducting an investigation into this matter as well as reviewing our procedures for the disposing of sensitive documents."
Watch the report below, via WPIX:

[h/t
Huffington Post
]
— —
>>
Follow Andrew Kirell (@AndrewKirell) on Twitter
Have a tip we should know? tips@mediaite.com