'Sick Joke': Jeremy Scahill Rips Apart 'Murder Inc.' GOPers For 'Partisan' Disdain Of Obama Drone Policy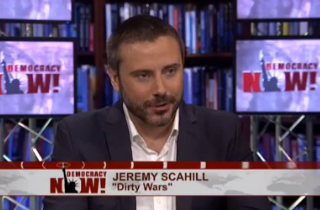 Ever the equal opportunity hater of both parties, The Nation's Jeremy Scahill took the Democracy Now! last night to scorn the GOP for their "concern" over President Obama's drone policy while still supporting "enhanced interrogation techniques."
Scahill's remarks came in response to the news that hawkish conservative activist (and #Groundswell member) Frank Gaffney testified before the Senate that Obama's drone policy was "less humane" than holding suspects at controversial Guantanamo Bay prison for an indefinite amount of time. Skeptical of Gaffney's sudden "concern" over drone strikes, Scahill called B.S., telling host Amy Goodman that if a Republican were in the White House, Gaffney and others would be highly supportive of the exact policies utilized by Obama [emphasis added]:
"Frank Gaffney is a notorious, discredited neocon. The fact that he was even testifying, you know, talks about the seriousness of that hearing. But let's be clear here: The Republicans, during their administration, their sort of reign of terror, were Murder Incorporated, where torture was the official policy. They didn't even pretend to act like it was some abomination that happened once in a while. They were killing people in massive numbers in Iraq, in Afghanistan, in Pakistan, all around the world. So the fact that these guys are now trying to say, 'Well, the Obama administration, because he dismantled the interrogation program, is somehow less humane than we were,' is just a sick joke."
Amen. Scahill further excoriated the Republicans for what he sees as opportunistic partisan attacks on Obama, despite the fact that the president's policies have largely mirrored and extended those of President Bush — e.g., rendition, indefinite detention, targeted drone strikes, extensive domestic surveillance, and the expansion of executive authority.
"They're just attacking him because he's Obama," Scahill rightly noted of some Republicans. "But they love his so-called national security policy. At the end of the day, they're being motivated more by their own partisan agenda." Ultimately, he concluded, Gaffney's comments reflect an "insidious" attempt to argue that America should once again embrace torture policies.
Scahill's remarks remind me of what many called out after Sen. Rand Paul's admirable March filibuster against the potential domestic use of drone strikes. Back then, as I noted, several hawkish Republicans opportunistically jumped on the #StandWithRand bandwagon, not as a matter of principle, but as a means to scoring political points against a Democratic president they dislike.
Watch below, via Democracy Now!:

[h/t Raw Story]
— —
>> Follow Andrew Kirell (@AndrewKirell) on Twitter
Have a tip we should know? tips@mediaite.com