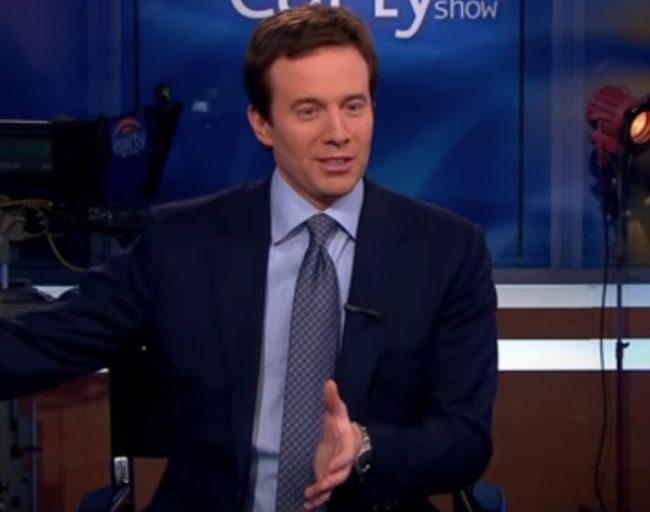 *Crickets*
That was the reaction today when CBS announced that they had finally decided on Jeff Glor as the permanent replacement to Scott Pelley as the anchor of CBS Evening News. Pelley had been pushed out of the anchor chair a few months ago following a six-year run. Since Pelley's departure in June for 60 Minutes, Anthony Mason served as interim anchor.
Considering the fact that the anchor spot for one of the Big Three broadcast evening news programs had been vacant for some months — a broadcast that currently attracts more than 6 million viewers a night — one would have thought that the naming of Glor would have been a fairly big news story today, especially within the media and entertainment news industry. But it barely made a blip on the radar.
On this site's end, CBS's announcement didn't even warrant a post. CNN senior media correspondent Brian Stelter tossed out the news on Twitter right after it broke, and despite the fact that Stelter has over 500,000 Twitter followers, the tweet only nabbed a few dozen retweets.
Breaking: @JeffGlor is the next anchor of the @CBSEveningNews https://t.co/xJM37ZHMQr

— Brian Stelter (@brianstelter) October 25, 2017
Yashar Ali, who has over 180,000 followers, only managed to get 15 retweets when he posted about the major story.
Months after Scott Pelley got pushed out of CBS Evening News anchor chair, the network announces that @jeffglor is his permanent replacement

— Yashar Ali ? (@yashar) October 25, 2017
And despite having over 6 million followers, CBS News' announcement tweet garnered less than 200 retweets:
Emmy-award winning CBS News correspondent @JeffGlor has been named anchor of the @CBSEveningNews https://t.co/ed7Jt68Q79 pic.twitter.com/1asHmLN83s

— CBS News (@CBSNews) October 25, 2017
Why the lack of interest? Why the collective yawn? Why doesn't anyone care?
It's the sign of the times, that's why.
Let's just take a look at Google News results for Glor compared to some names in cable news. On a day when he was named the new anchor, Glor pulled in 11,300 results. On the other hand, CNN's Jake Tapper had 54,800 entries and MSNBC's Chuck Todd came in at 103,000. Now, to be fair, Jeff Glor isn't a household name, and the results reflect that. But the lack of interest reveals a stunning change in the broadcast news business.
We are now completely in the age of the 24-hour news cycle. In the era of Twitter, Facebook, cable news channels with round-the-clock coverage, smartphone push notifications and online news saturation, the evening news broadcast increasingly feels like a dinosaur. It feels like something from a bygone era.
More than anything, what is truly killing the major news networks in this hyperspeed news era is the demand for instant analysis and hot takes. The moment a major news story hits, today's news consumer want to know what it all means. And they want to hear about it RIGHT NOW. They don't want to wait until the evening, or egads, the next day.
They want the person who is there immediately with the soundbite. The person who shows up on cable news or gets a quick story up on an online news outlet.Someone who may get up an instant Facebook Live and YouTube video. A person with a huge following tossing out Twitter threads.
This is the current environment Jeff Glor steps into. Sure, millions of folks will tune in to the broadcast each night because it is on a broadcast channel. But it will increasingly slide into irrelevancy as the environment continues to shift.
Long lost are the days when the Big Three news anchors were household names and the folks Americans turned to get their national news. It was a good time while it lasted.
[image via screengrab]
—
Follow Justin Baragona on Twitter: @justinbaragona
This is an opinion piece. The views expressed in this article are those of just the author.