Sign Of The Times? Daily Show Boasts More Young Viewers Than Late Night Network Shows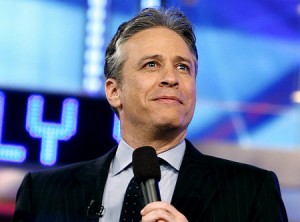 Maybe it was the buildup to Election Day, or hype about the Rally To Restore Sanity, or the simple fact that neither David Letterman nor Jay Leno runs a very youth-friendly show. In any case, the ratings for October are in—and for the first time ever, The Daily Show ranks Number 1 among viewers between the ages of 18 and 49, beating every one of its network competitors.
Here's how each late night show fared last month, courtesy of TV by the Numbers:
1. "The Daily Show with Jon Stewart" – 1.3 million viewers

2. "The Tonight Show with Jay Leno" – 1.2 million viewers

3. "Late Show with David Letterman" – 1.2 million viewers

4. "The Colbert Report" – 900,000 viewers

5. "Late Night with Jimmy Fallon" – 800,000 viewers

6. "The Late Late Show with Craig Ferguson" – 700,000

7. "Jimmy Kimmel Live" – 700,000

8. "Chelsea Lately" – 650,000

9. "Lopez Tonight" – 450,000
No late night program other than The Tonight Show or Late Show With David Letterman has claimed that Number 1 spot since at least 2000. Additionally, the press release says that The Daily Show attracts more adults 18-24 and more men 18-34 than any of its competitors. Note also Colbert's strong 4th-place finish in the ratings—taken as a one-hour block, The Colbert Report and The Daily Show have more viewers 18-49 than anyone else on this list, even if there is some overlap between both audiences.
It'll be interesting to see how these rankings change in the months following the election (and the rally), especially considering Conan O'Brien's new show premieres November 8. In the meantime, though, Jon Stewart and his team deserve hearty congratulations. It's been a big week for them.
Have a tip we should know? tips@mediaite.com