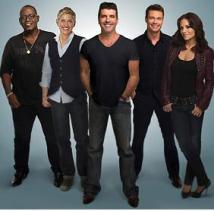 This year, it was Paula Abdul. Next year it will be Simon Cowell.
FOX and Cowell announced today this season would be his last with mega-hit American Idol, and beginning in 2011 he would be bringing his very American Idol-like X Factor across the pond and host the show for FOX as well.
THRFeed.com reports on the announcement, which was made at FOX's Television Critic's Association event this afternoon:
"In my opinion it's like having a good player on a good football team," Cowell told the critics. "But when the player retires the team will continue to be very successful. I'm confident 'Idol' will continue to be the No. 1 show. I want to leave 'Idol' this year bigger and better than it's been before."

The U.S. version of "X-Factor" will be a similar format to the UK version, with Cowell acting as judge and executive producer. The other judges will be announced shortly, Cowell said.

The "X-Factor" plan means Cowell will be off American television for more than a year.
It's interesting to see the live-tweeting that took place during the announcement. Here's a few from Forbes reporter Lacey Rose:
and now he's agreeing to and signing his contract on stage

simon blast record labels – he says most are out of touch b/c they dont recognize talents like susan boyle.
Boyle is a product of the U.K. X Factor – probably the most successful from the show. but now that FOX will air both American Idol and X Factor, will it be singing competition overkill?
And who becomes the star of Idol? There's a good chance the show could be reincarnated around Ellen Degeneres, this season and beyond, and X Factor becomes Cowell's baby. Either way, there's going to be a lot of singing and judging going on at FOX in 2011. Bigger question: will there be Conan O'Brien?
—–
» Follow Steve Krakauer on Twitter
Have a tip we should know? tips@mediaite.com