'Simply Not Good Enough': Democrat Rips Into IRS Commissioner During Congressional Hearing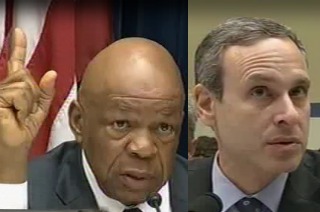 Rep. Elijah Cummings (D-MD), the Ranking Member on the House Oversight and Government Reform Committee, tore into former Internal Revenue Service Commissioner Douglas Shulman on Wednesday during hearings into the revelation that the IRS had targeted conservative groups with undue scrutiny. Cummings insisted that Shulman's excuses for not informing the congress of the targeting when he was made aware of it were "not good enough."

Shulman told Cummings that he did not have all the fact relating to the IRS's targeting of GOP groups, but said he was informed of the matter in the spring of 2012. He said he relied on the Inspector General to inform him of the facts of the IRS's targeting efforts so that he could inform Congress when he was fully informed.
"That answer would be more acceptable if you had not given the answer that you did in March, 2012," Cummings shot back. He noted that Shulman previously testified that "there's absolutely no targeting."
RELATED: 'I Have Not Done Anything Wrong': IRS Official Lois Lerner Pleads The Fifth, Gets Dismissed From Scandal Hearing
Cummings asked why Shulman did not inform Congress that he was made aware of the targeting when he was given that he was aware of Congress' interest in the scandal.
"At the time I learned about this list, I felt I was taking the appropriate actions and that my course was the proper one and I still feel that way today," Shulman replied.
"I'm sorry, that's simply not good enough," Cummings shot back. "Did you have an investigation? Was there an internal investigation?"
"I never understood that word of 'internal investigation," Shulman confessed.
Cummings noted that this response does not comport with Shulman's actions, which included personnel and procedural changes after he learned of the targeting scandal. "Remember in my opening statement, I said two words," Cummings said, "truth and trust."
Watch the clip below via C-SPAN 3:
> >Follow Noah Rothman (@NoahCRothman) on Twitter
Have a tip we should know? tips@mediaite.com