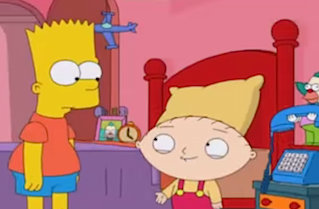 This Sunday, Fox will air the long-awaited crossover episode in which Family Guy's Griffin family visits The Simpsons' Springfield. But one line from the trailer that premiered during this summer's Comic-Con has drummed up some advance controversy — likely just what the network and show creators are hoping for to drive up viewership for the event.
In one scene from the upcoming episode, Bart Simpson shows Stewie Griffin how he prank calls Moe's Tavern. While Bart calls the bar asking if he can speak to someone with the last name Keybum and first name Lee ("leaky bum," get it?), when it's Stewie's turn, he takes a different approach. "Hello, Moe?" he says. "Your sister's being raped."
The joke highlights the fundamental comedic style differences between The Simpsons and Family Guy. While the former is inclined to go for the silly pun, the latter goes straight for the most shocking thing it can think of. The moment is one of many meta-commentaries on the idea of these two cartoon worlds colliding.
But the joke has led to some calls for Fox to remove it from the upcoming episode, a request they have thus far ignored.
Tim Winter, president of the advocacy group Parents Television Council, said he's a longtime fan of Matt Groening, creator of "The Simpsons," and sought out the trailer when it was released.
"I was blown out of my shoes when I saw the scene with the rape joke in it," Tim Winter, president of the Parents Television Council told the Associated Press. "It really troubled me." A self-described long-time fan of The Simpsons, he was apparently not accustomed to Family Guy's more blunt approach.
But meanwhile, a spokesperson for the Rape, Abuse and Incest National Network said she did not find the joke offensive given its context and the AP could not get a comment on the matter from the National Organization for Women.
Winter's final quote from the AP article sums up how little he seems to understand about Family Guy's comedic intentions: "We don't mock certain groups because we realize that it is highly insensitive and morally wrong. Why wouldn't we do the same thing about sexual assault?"
After all, this is the same show that made a joke about Trig, Sarah Palin's youngest son, who has Down's Syndrome.
Watch video below, via Fox (rape joke happens at 1:10):
[Photo via screengrab]
— —
>> Follow Matt Wilstein (@TheMattWilstein) on Twitter
Have a tip we should know? tips@mediaite.com